Former U.S. President Jimmy Carter discharged from hospital after surgery
2019-11-28 02:52:33 GMT
2019-11-28 10:52:33(Beijing Time)
Xinhua English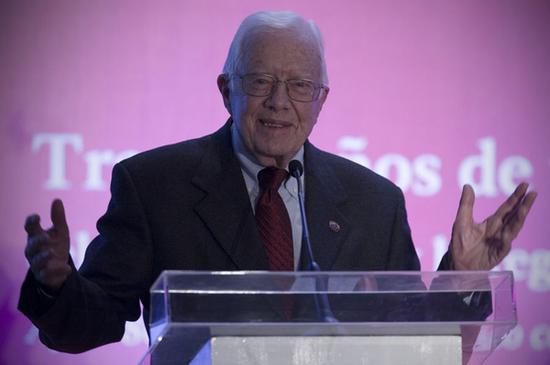 Former U.S. President Jimmy Carter delivers a speech during the opening ceremony of the Inter American Conference on Onchocerciasis in Mexico City, capital of Mexico, on Nov. 14, 2014. [Photo/Xinhua]
WASHINGTON, Nov. 27 (Xinhua) -- Former U.S. President Jimmy Carter has been released from Emory University Hospital in Atlanta, southeast U.S. state of Georgia, after recovering from a surgery, the Carter Center said on Wednesday.
The 95-year-old, longest-living former U.S. president was discharged from the hospital on Wednesday morning after "successful surgery and recovery to relieve pressure on his brain caused by a subdural hematoma," the Carter Center said in a statement.
"He and Mrs. Carter look forward to enjoying Thanksgiving at home in Plains, where he will continue to recover," the statement said. "The Carters are grateful for all the prayers, cards, and notes they have received and hope everyone will join them in enjoying a special Thanksgiving."
Carter was admitted to the hospital on Nov. 11 for the surgery, less than a month after he was hospitalized for a minor pelvic fracture due to a fall in his home.
The 39th U.S. president serving between 1977 and 1981, Carter oversaw the normalization of diplomatic ties between the United States and China 40 years ago. Enditem