Annual Spring Festival gala staged in U.S. Houston
2020-01-13 02:31:04 GMT
2020-01-13 10:31:04(Beijing Time)
Xinhua English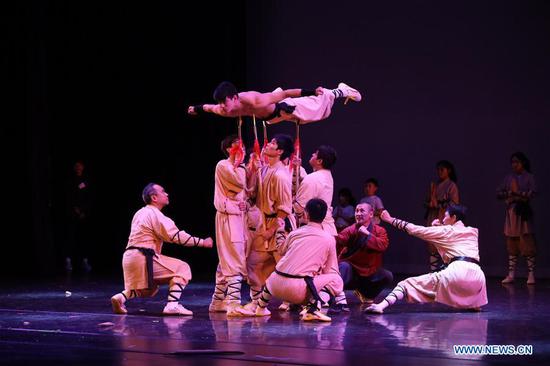 Members of Shaolin Temple Cultural Center present martial arts "Shaolin Kung Fu" during a Spring Festival gala in Houston, Texas, the United States, on Jan. 11, 2020. A grand Spring Festival gala was staged in Houston, the fourth largest city of the United States, Saturday night for local Chinese and Americans to join the Lunar New Year celebrations. (Xinhua/Liu Liwei)
HOUSTON, Jan. 12 (Xinhua) -- A grand Spring Festival gala was staged in Houston, the fourth largest city of the United States, Saturday night for local Chinese and Americans to join the Lunar New Year celebrations.
Performed by local artists and art lovers, the gala featured dancing, Peking Opera, traditional Chinese music and popular Chinese and American songs. More than 1,000 people watched the "2020 Embracing Spring" evening show, the largest of its kind in Houston.
After joining the show for the first time last year, American vocal performer Dorceal Duckens was excited to return to this year's stage. Singing two songs, Duckens said he had a wonderful experience with Chinese artists and audience.
"It's such a fabulous experience to be with the Chinese people. It's very kind of them to even want me to come back. I was excited when I got the call," he told Xinhua, sending New Year wishes to the Chinese community.
Director of the show Jiajin Ji said the show has a special aim, carrying forward the traditional Chinese culture.
"We chose some performances on purpose. Chinese instrument, traditional costumes, Peking Opera and ancient Chinese poems were all selected elements in this show to represent our splendid culture," he said.
The show was organized by the Houston Chinese Civic Center, in cooperation with Chinese Consulate General in Houston and Chinese communities across Houston. Chinese Consul General in Houston Cai Wei and some politicians sent their greetings to Chinese communities for the upcoming Chinese New Year.
The Year of the Rat will begin on Jan. 25.