European Parliament President Sassoli to self-quarantine in Brussels
2020-03-11 04:12:14 GMT
2020-03-11 12:12:14(Beijing Time)
Xinhua English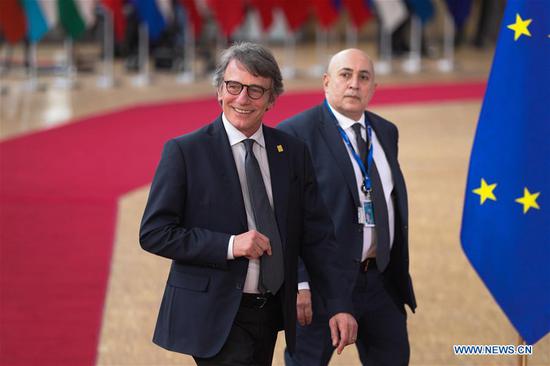 File photo shows President of the European Parliament David Sassoli (L) arriving for a special meeting of the European Council at the EU headquarters in Brussels, Belgium, Feb. 20, 2020. Sassoli said on Tuesday that he will work from home in Brussels, after spending a weekend in Italy. "I have decided after having been in Italy over the last weekend, as a precaution, to follow the indicated measures and to exercise my function as president from my home in Brussels in compliance with the 14 days indicated by the health protocol," Sassoli said in a statement posted by the EP. (Xinhua/Zheng Huansong)
BRUSSELS, March 10 (Xinhua) -- European Parliament (EP) President David Sassoli said on Tuesday that he will work from home in Brussels, after spending a weekend in Italy.
"I have decided after having been in Italy over the last weekend, as a precaution, to follow the indicated measures and to exercise my function as president from my home in Brussels in compliance with the 14 days indicated by the health protocol," Sassoli said in a statement posted by the EP.
Noting the Italian government has extended the protected area to the whole national territory, the president said that "this has important consequences for the behaviour of Italian Members of European Parliament."
On Monday, the Italian government said measures to stem the spread of the novel coronavirus would be extended to the entire country, with a total of 9,172 cases confirmed and 463 deaths reported as of Monday.
The novel coronavirus "obliges everyone to be responsible and to be cautious" and is "a delicate moment for all of us," Sassoli said, adding that "Parliament will continue to work to exercise its duties."
Based on the latest situation in Italy, the European Parliament has updated its measures to protect health, Sassoli said without elaborating.