China-Brunei joint venture holds blood donation campaign
2020-08-14 04:34:34 GMT
2020-08-14 12:34:34(Beijing Time)
Xinhua English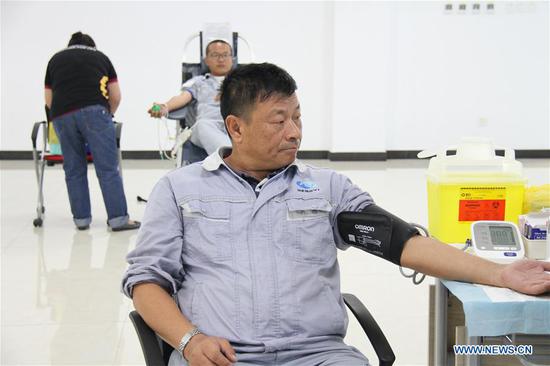 A staff member of Hengyi Industries Sdn Bhd has physical examination before participating in a blood donation in Bandar Seri Begawan, capital of Brunei, Aug. 13, 2020. Hengyi Industries Sdn Bhd, a China-Brunei petrochemical joint venture, held a blood donation drive on Wednesday and Thursday in collaboration with Brunei's Jerudong Park Medical Center, with the participation of over 60 Hengyi staff and management. (Xinhua)
Hengyi Industries Sdn Bhd, a China-Brunei petrochemical joint venture, held a blood donation drive on Wednesday and Thursday in collaboration with Brunei's Jerudong Park Medical Center, with the participation of over 60 Hengyi staff and management.
A total of 66 pints of blood were collected and contributed to Brunei's blood banks.
Hengyi Industries is a joint venture between China's Zhejiang Hengyi Group and Damai Holdings, a wholly-owned subsidiary under the Brunei government's Strategic Development Capital Fund, owning 70 percent and 30 percent of the shares respectively.
"The event marks the second blood donation drive organized by Hengyi as part of our Corporate Social Responsibility (CSR), in raising awareness on the importance of voluntary blood donation and how a single donation of blood could save up to three lives," Chen Liancai, Hengyi's Chief Executive Officer told Xinhua on Thursday.
"Hengyi plans to conduct more blood donation drives in the future, with hopes that it will also inspire the local community to donate blood for a potentially life-saving cause," he added.
With the help of its oil refinery and petrochemical project at Pulau Muara Besar (PMB), a 955-hectare industrial park on an island at the Brunei Bay, Hengyi is supplying refined fuel products to meet local and overseas demand for petrochemical products.
Since the start of full operations last November, Hengyi has directly employed hundreds of locals and the number is expected to increase further. Several more indirect employment opportunities have also been generated through various contractors and local service providers, Chen said.