Li Na becomes China's first US Open semifinalist
2013-09-04 00:58:58 GMT
2013-09-04 08:58:58(Beijing Time)
Xinhua English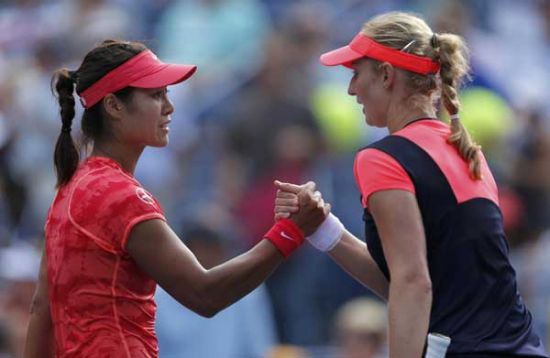 Li Na of China is congratulared by Ekaterina Makarova of Russia (R) after their match at the US Open tennis championships in New York, Sept 3, 2013. [Photo/Agencies]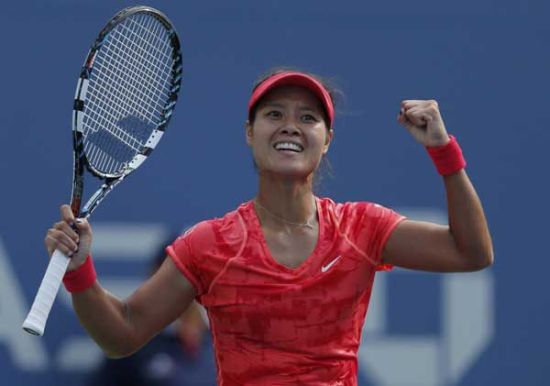 Li Na of China celebrates after defeating Ekaterina Makarova of Russia at the US Open tennis championships in New York, Sept 3, 2013.[Photo/Agencies]
Li Na broke another barrier for Chinese tennis, becoming China's first semifinalist at the US Open by beating Russian Ekaterina Makarova 6-4 6-7(5) 6-2 on Tuesday at windy Flushing Meadows.
The 31-year-old, fifth-seeded Li pumped both fists in joy after 24th seed Makarova sailed a backhand long to end the two-hour, 20-minute match at Arthur Ashe Stadium as the crowd showered her with cheers.
"For me, this is the first time to come to the semifinals, so I'm very proud of myself," said Li, who looked about to claim victory in two sets after winning the first three points of the tiebreaker and holding a 4-2 lead.
"After I lose the second set, I was sad. But I just told myself to go point by point."
Li's win over the Russian left-hander helped restore order after Monday's shocking straight sets, fourth-round surrender by Roger Federer to Tommy Robredo.
Men's top seed Novak Djokovic was dazzling in a 6-3 6-0 6-0 demolition of unseeded Marcel Granollers of Spain to reach the quarters against 21st-seeded Russian Mikhail Youzhny, who ended the run of 2001 winner Lleyton Hewitt 6-3 3-6 6-7 (3) 6-4 7-5.
"Today, the second and third set have been some of the best tennis that I've played on Arthur Ashe in my career," said Djokovic, which is saying something given his charge to the title in 2011 and runs to the final in 2007 and 2012.
"I was wishing to be more aggressive as the tournament progresses and to be able to stay committed to play every point, to win every point, regardless of what's the score," said the Serb, who won the first 25 points on his serve.
"So I'm very happy with my mental state, how I feel physically, and the way I played. It's definitely coming at the best possible time."
Youzhny, the 21st seed, outbattled renowned fighter Hewitt by overcoming deficits of 1-4 in the fourth set, and 2-5 in the fifth, as he won the last five games of the match.
"Obviously, it could have gone either way," said 32-year-old unseeded Hewitt, who had upset sixth-seeded former champion Juan Martin del Potro in the second round and was trying to reach the US Open quarter-finals for the first time in seven years.
"There were a lot of momentum changes. In the end, he played the big games when he needed to."
Earlier, women's second seed Victoria Azarenka overcame Ana Ivanovic, the 13th seed, 4-6 6-3 6-4 to complete the women's quarterfinals field after their contest was postponed from Monday due to nearly five hours of rain delays.
The world number two Belarussian, US Open runner-up last year to Serena Williams, will play unseeded Daniela Hantuchova of Slovakia in the last eight.