U.S. retain women's team gold in gymnastics worlds
2014-10-08 13:55:32 GMT
2014-10-08 21:55:32(Beijing Time)
Xinhua English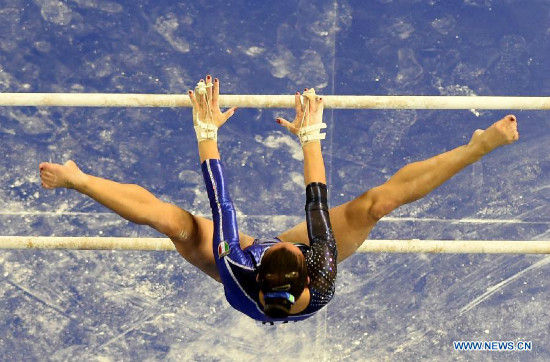 Italian gymnast Vanessa Ferrari performs on the uneven bars during the women's team final of the 45th Gymnastics World Championships in Nanning, capital of south China's Guangxi Zhuang Autonomous Region, Oct. 8, 2014. (Xinhua/Wang Yuguo)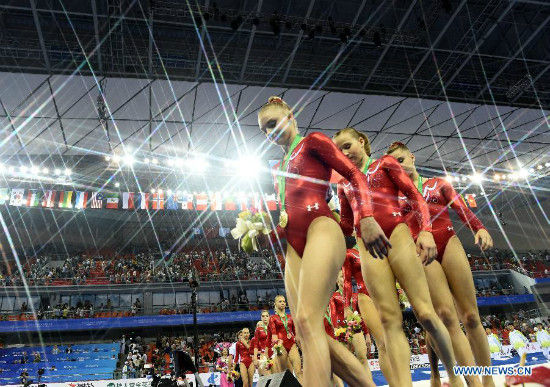 Gymnasts of team USA (front) leave the podium after the awarding ceremony of the women's team final of the 45th Gymnastics World Championships in Nanning, capital of south China's Guangxi Zhuang Autonomous Region, Oct. 8, 2014. USA team won the title with a total of 179.280 points. (Xinhua/Huang Xiaobang)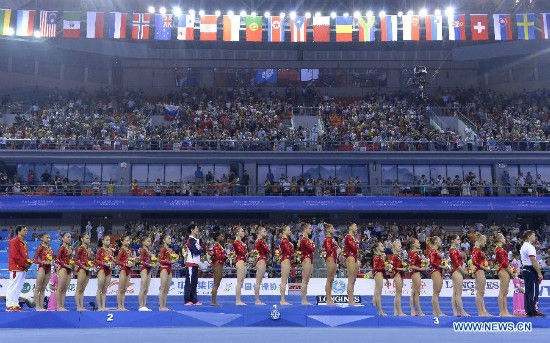 Gymnasts of Team USA (C), Team China (L) and Team Russia pose on the podium during the awarding ceremony of the women's team final of the 45th Gymnastics World Championships in Nanning, capital of south China's Guangxi Zhuang Autonomous Region, Oct. 8, 2014. Team USA team won the title with a total of 179.280 points, with China and Russia running second and third respectively. (Xinhua/Liang Xu)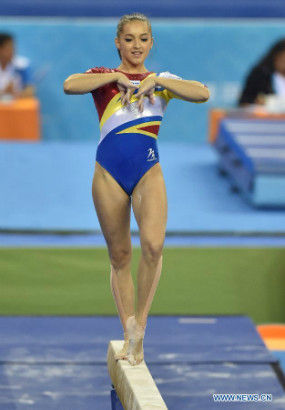 Romanian gymnast Larisa Andreea Iordache performs on the beam during the women's team final of the 45th Gymnastics World Championships in Nanning, capital of south China's Guangxi Zhuang Autonomous Region, Oct. 8, 2014. Romania ranked fourth in the final.(Xinhua/Liu Jun)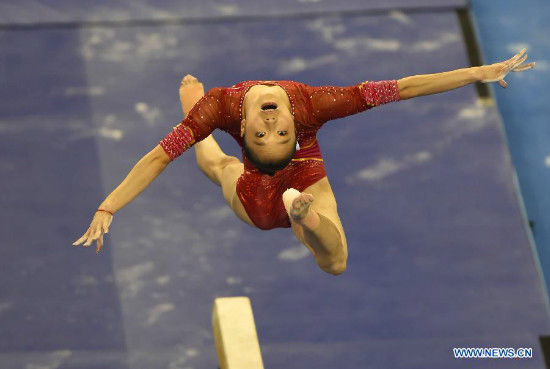 Yao Jinnan of China performs on the balance beam during the women's team final of the 45th Gymnastics World Championships in Nanning, capital of south China's Guangxi Zhuang Autonomous Region, Oct. 8, 2014. China won the silver medal with a total of 172.587 points. (Xinhua/Xiao Yijiu)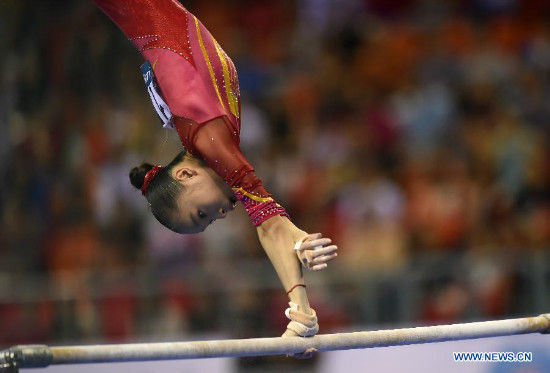 Chinese gymnast Yao Jinnan performs on the uneven bars during the women's team final of the 45th Gymnastics World Championships in Nanning, capital of south China's Guangxi Zhuang Autonomous Region, Oct. 8, 2014. China won the silver medal with a total of 172.587 points. (Xinhua/Xiao Yijiu)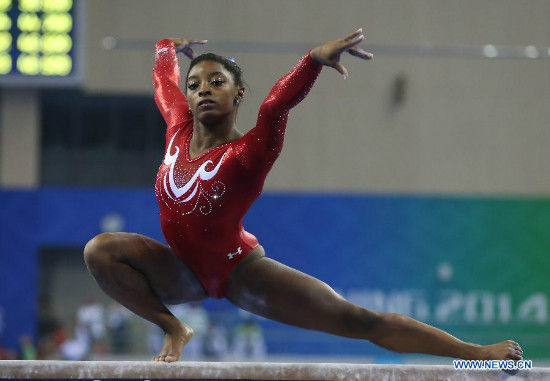 Simone Biles of USA performs on the balance beam during the women's team final of the 45th Gymnastics World Championships in Nanning, capital of south China's Guangxi Zhuang Autonomous Region, Oct. 8, 2014. Team USA won the title with a total of 179.280 points. (Xinhua/Ma Zhenyu)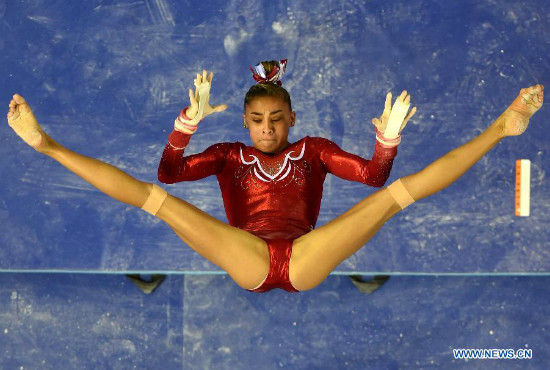 Ashton Locklear of USA performs on the uneven bars during the women's team final of the 45th Gymnastics World Championships in Nanning, capital of south China's Guangxi Zhuang Autonomous Region, Oct. 8, 2014. Team USA won the title with a total of 179.280 points. (Xinhua/Wang Yuguo)
Defending champions US retained the women's team title with a total score of 179.280 here on Wednesday at the 45th World Artistic Gymnastics Championships.
Hosts China took the silver with 172.587 points and Russia got the bronze with 171.462 points.
The Americans won tonight's vault, uneven bars and floor exercise, three of the four exercises in the women's team final.
Simone Biles led the vault and floor standings by getting the scores of 15.866 and 15.375 respectively, guiding the US team to the overall lead.
"Actually I have no secret to my success. I guess my biggest secret is to throw all the nerves away and have fun," said Biles.
Biles also told Xinhua that she is very proud of all the other girls in her team. "We have trained so hard for this one moment that the team medal means a world to us," she said.
Biles was the 2013 world champion of all-around and floor exercise.
The United States had collected the women's team titles of the 2011 gymnastics worlds and the 2012 London Olympic Games.
"The girls performed confidently. We trained hard and the training paid off today as they were able to come in and not be intimidated and just do the job they were prepared for," said US coach Martha Karolyi.
China's star Yao Jinnan, who fell from the bar tonight, expressed her dissatisfaction with her performance and vowed to adjust herself to give her best performance in the upcoming event.
The 18-year-old Shang Chunsong contributed a lot to China by ranking first on balance beam with 15.066 points. Shang hoped that the vault and floor skills of the team could be further improved.
Though defeated by the US, China coach Wang Quance said the Chinese girls had already done their best after competing all the way from Incheon Asian Games to Nanning.
"We overcame the difficulties from fatigue to injuries, and I think the performances of Chinese gymnasts went smoothly tonight," said Wang.
Wang believes that when the younger Chinese gymnasts reach 16 in two years time, China will see more well-trained athletes capable of competing at Rio Olympic Games.