Barella shines as Inter wins Derby d'Italia
2021-01-18 03:05:59 GMT
2021-01-18 11:05:59(Beijing Time)
Xinhua English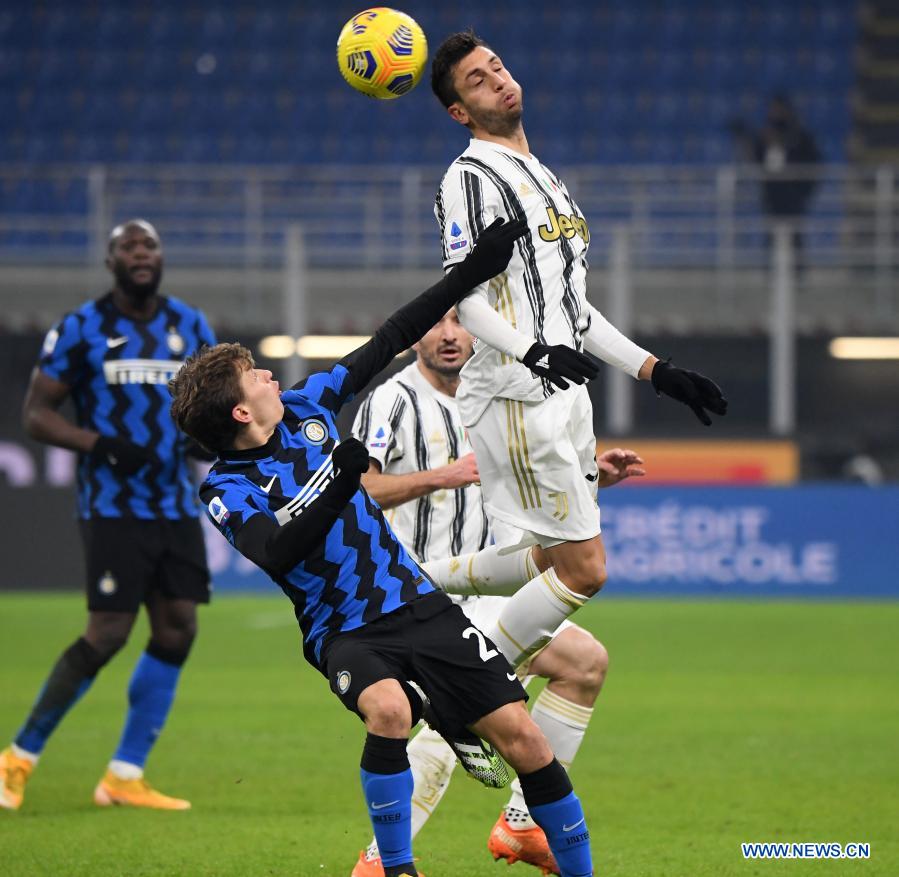 Inter Milan's Nicolo Barella (Front L) vies with Juventus' Rodrigo Bentancur (Top) during a Serie A soccer match between Inter Milan and Juventus in Milan, Italy, Jan. 17, 2021. (Photo by Alberto Lingria/Xinhua)
ROME, Jan. 17 (Xinhua) -- Nicolo Barella took center stage in the Derby d'Italia, as the Italian international provided one goal and one assist to help Inter Milan beat Juventus 2-0 at the San Siro on Sunday.
Juventus was hit hard by COVID-19 and injuries, and had to do without Matthijs de Ligt, Alex Sandro, Juan Cuadrado and Paulo Dybala, while Inter had a relatively full squad.
Cristiano Ronaldo had the ball into the net in the 11th minute, but his effort was ruled out as Federico Chiesa had wandered offside in the build-up.
The home side took the lead one minute later as Barella floated a cross from the right, and former Juve player Arturo Vidal out-jumped Danilo to score with a powerful header.
The Nerazzurri doubled the lead straight after the interval as Alessandro Bastoni's stunning pass sliced Juve's defense apart, allowing Barella to collect the ball and take a few touches before drilling home.
Inter's win sees them temporarily move level with league leaders Milan on 40 points, while Juve sits fifth with 33 points.
Elsewhere, Napoli hammered Fiorentina 6-0, with captain Lorenzo Insigne bagging a brace and providing one assist.
In Sunday's other fixtures, Crotone crushed Benevento 4-1, Sassuolo and Parma drew 1-1, and Atalanta shared spoils with Genoa in a 0-0 stalemate. Enditem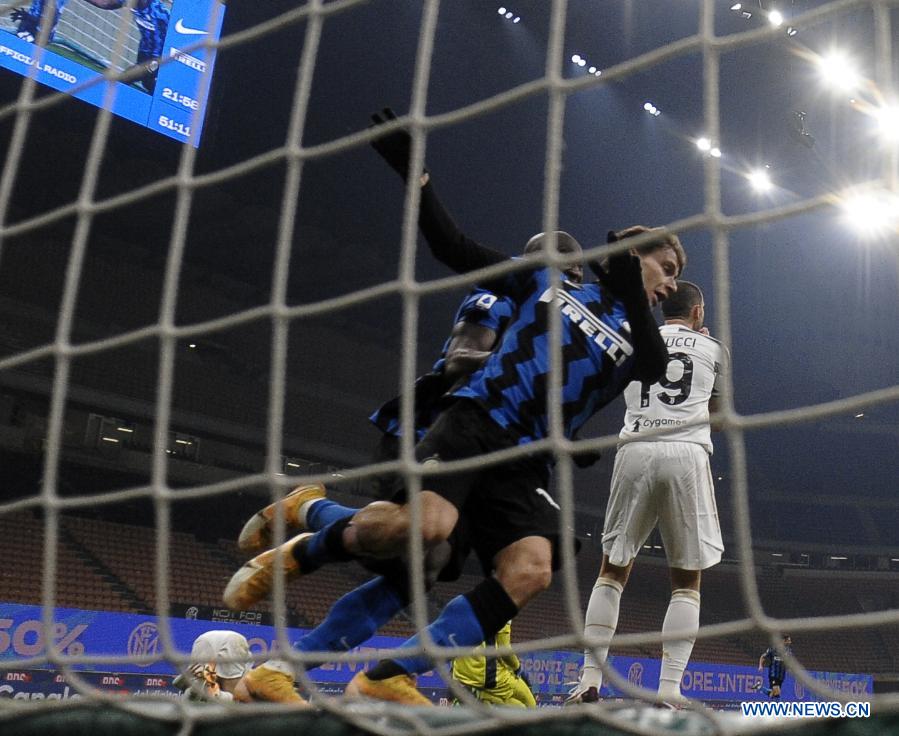 Inter Milan's Nicolo Barella (Front) celebrates his goal during a Serie A soccer match between Inter Milan and Juventus in Milan, Italy, Jan. 17, 2021. (Photo by Alberto Lingria/Xinhua)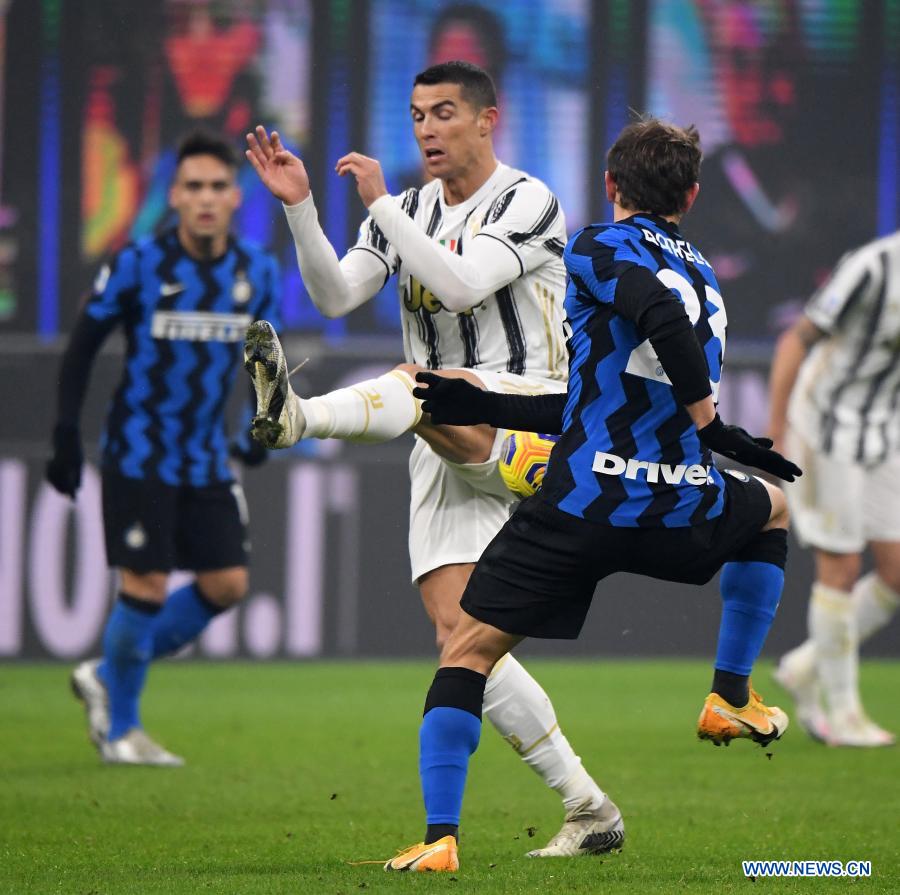 Inter Milan's Nicolo Barella (front R) vies with Juventus' Cristiano Ronaldo during a Serie A soccer match between Inter Milan and Juventus in Milan, Italy, Jan. 17, 2021. (Photo by Alberto Lingria/Xinhua)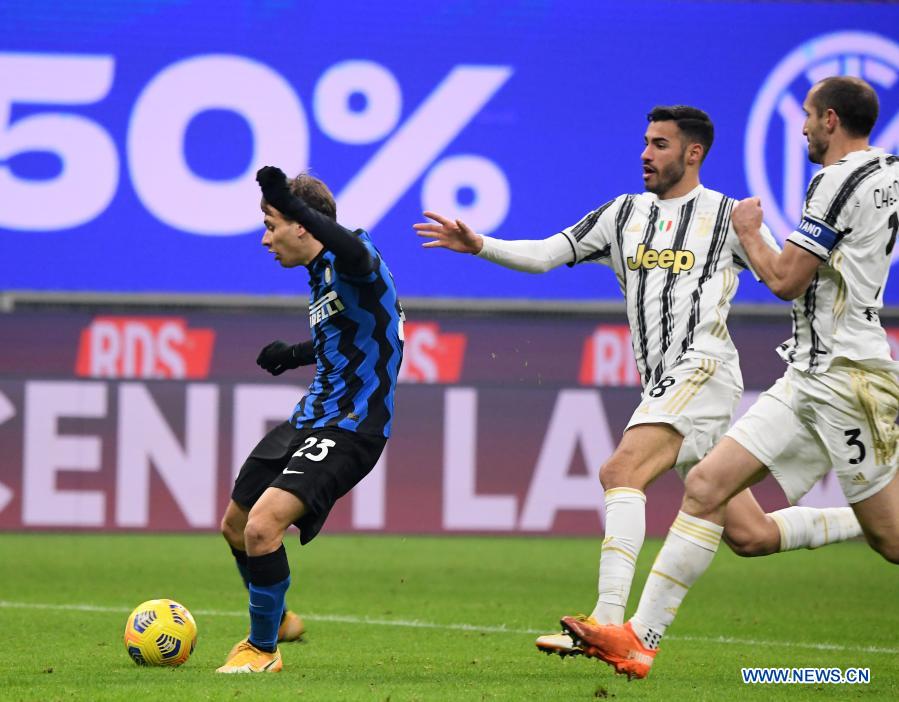 Inter Milan's Nicolo Barella (L) shoots and scores during a Serie A soccer match between Inter Milan and Juventus in Milan, Italy, Jan. 17, 2021. (Photo by Alberto Lingria/Xinhua)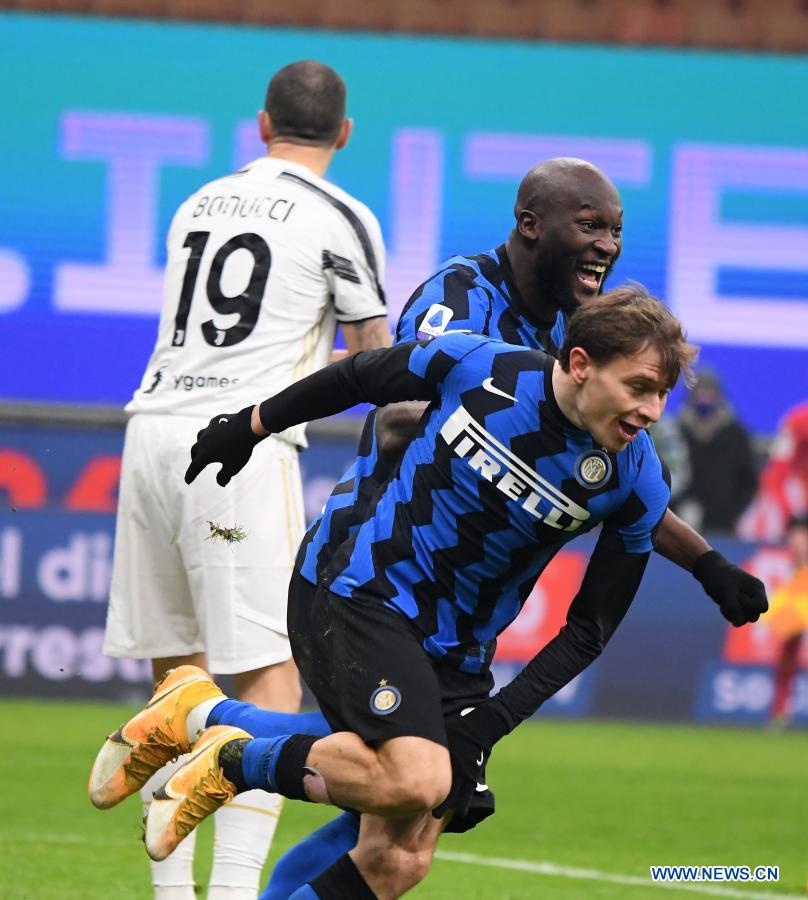 Inter Milan's Nicolo Barella (Front) celebrates his goal during a Serie A soccer match between Inter Milan and Juventus in Milan, Italy, Jan. 17, 2021. (Photo by Alberto Lingria/Xinhua)
Inter Milan's Marcelo Brozovic (C) vies with Juventus' Aaron Ramsey (L) during a Serie A soccer match between Inter Milan and Juventus in Milan, Italy, Jan. 17, 2021. (Photo by Alberto Lingria/Xinhua)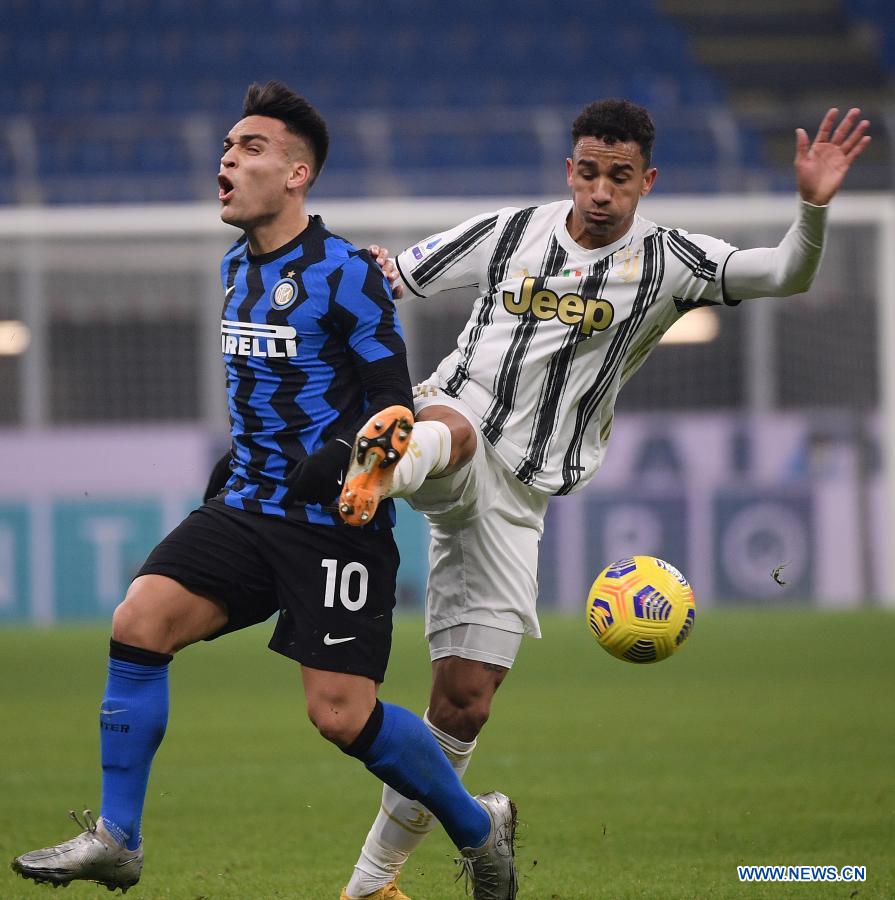 Inter Milan's Lautaro Martinez (L) vies with Juventus' Danilo during a Serie A soccer match between Inter Milan and Juventus in Milan, Italy, Jan. 17, 2021. (Photo by Alberto Lingria/Xinhua)