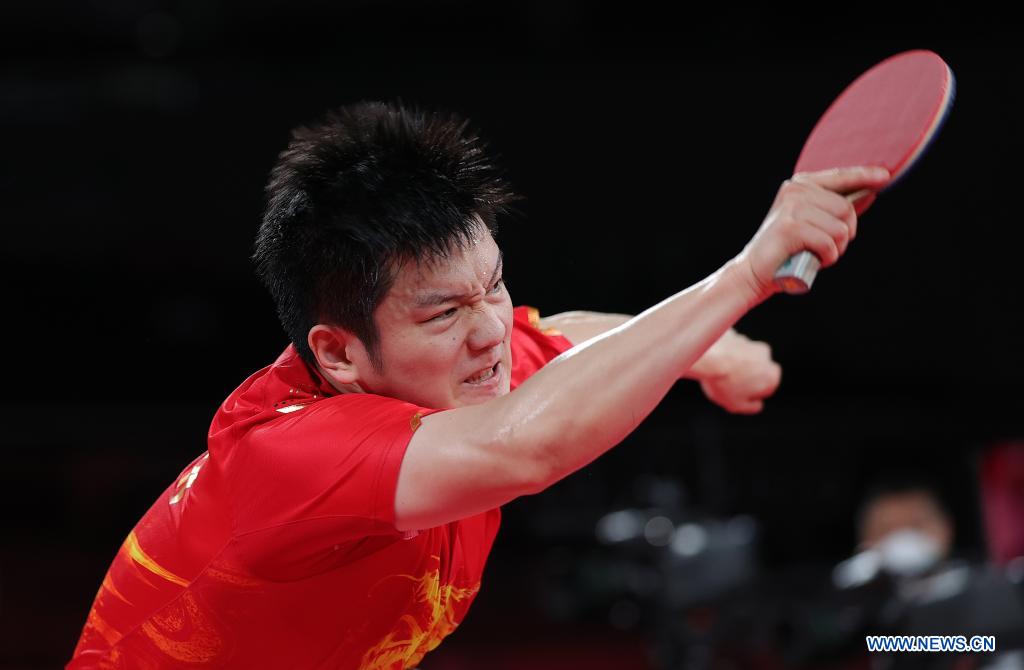 Fan Zhendong of China competes during the men's singles semifinal table tennis match between Fan Zhendong of China and Lin Yun Ju of Chinese Taipei at Tokyo 2020 Olympic Games in Tokyo, Japan, July 29, 2021. (Xinhua/Wang Dongzhen)
TOKYO, July 29 (Xinhua) -- Top two seeds Fan Zhendong and Ma Long set up an all-Chinese matchup in table tennis men's singles final after both going through full-set thrillers at the Tokyo Olympic Games here on Thursday.
Facing Germany's Dimitrij Ovtcharov, Grand Slam winner and defending champion Ma bagged the first two sets 13-11, 11-8, but Ovtcharov bounced back to win 11-9, 11-9 to level the score. The two paddles continued their tight contention, as Ma took away the fifth set 11-7, and Ovtcharov forced a decider 11-5. Ma bagged the nail-biting seventh set 11-9 to seal the deal.
Earlier on Thursday, Fan was put under stern test by Lin Yun-Ju of Chinese Taipei but survived the full-set thriller 6-11, 11-9, 14-12, 13-15, 11-9, 9-11, 11-8 to book a final berth.
The women's singles final will also be an all-Chinese clash, with Chen Meng and Sun Yingsha vying for title in their maiden Olympic appearance. Enditem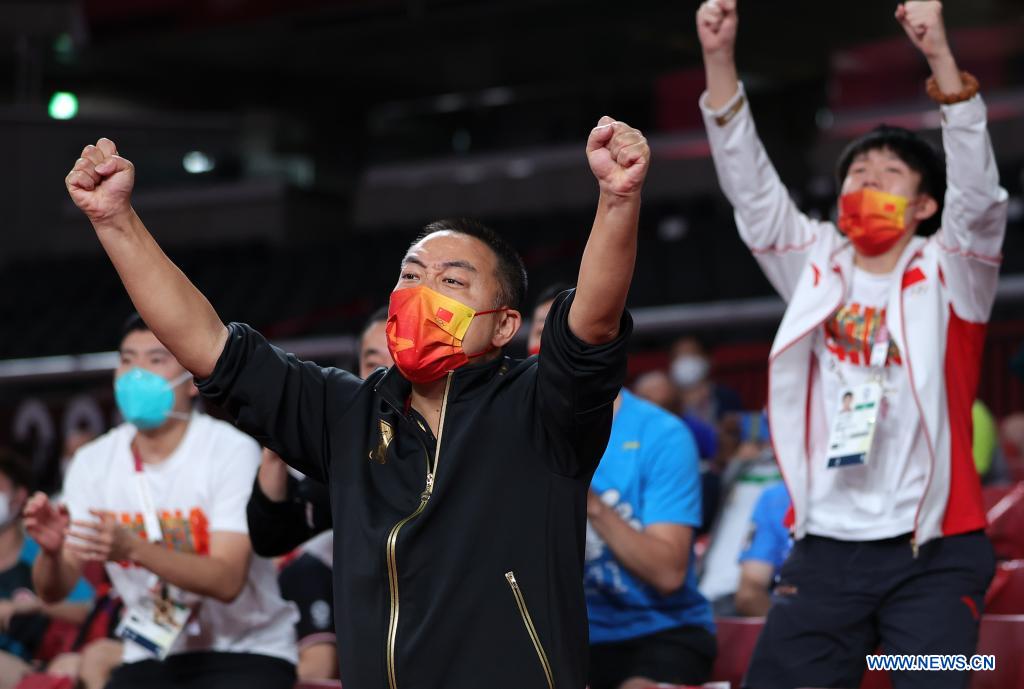 President of the Chinese Table Tennis Association Liu Guoliang (front) celebrates during the men's singles semifinal table tennis match between Fan Zhendong of China and Lin Yun Ju of Chinese Taipei at Tokyo 2020 Olympic Games in Tokyo, Japan, July 29, 2021. (Xinhua/Wang Dongzhen)
Fan Zhendong of China celebretes during the men's singles semifinal table tennis match between Fan Zhendong of China and Lin Yun Ju of Chinese Taipei at Tokyo 2020 Olympic Games in Tokyo, Japan, July 29, 2021. (Xinhua/Wang Dongzhen)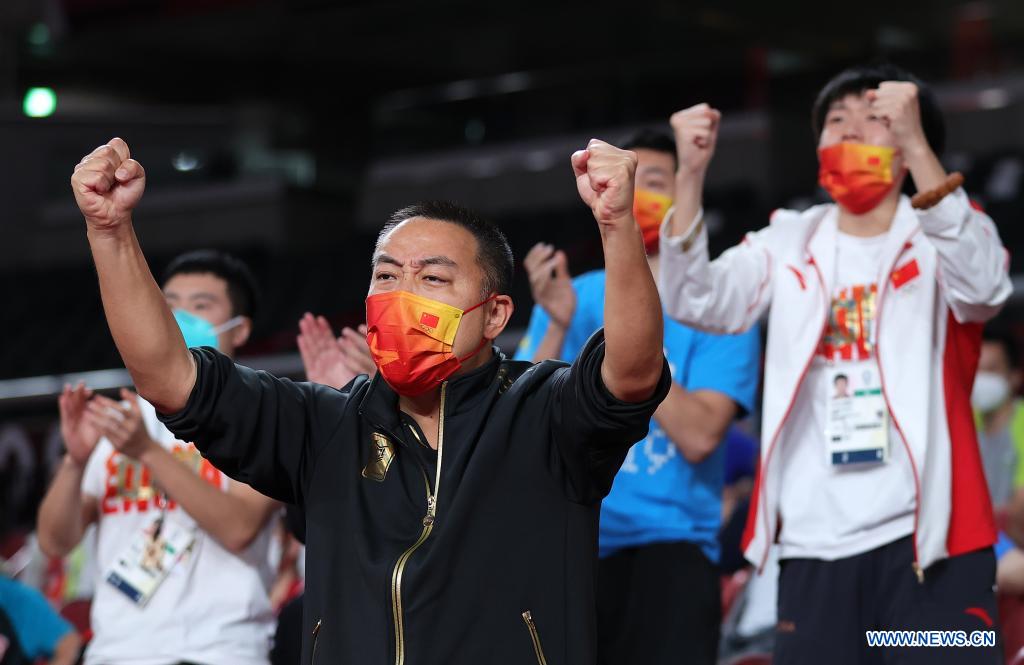 President of the Chinese Table Tennis Association Liu Guoliang (front) celebrates during the men's singles semifinal table tennis match between Fan Zhendong of China and Lin Yun Ju of Chinese Taipei at Tokyo 2020 Olympic Games in Tokyo, Japan, July 29, 2021. (Xinhua/Wang Dongzhen)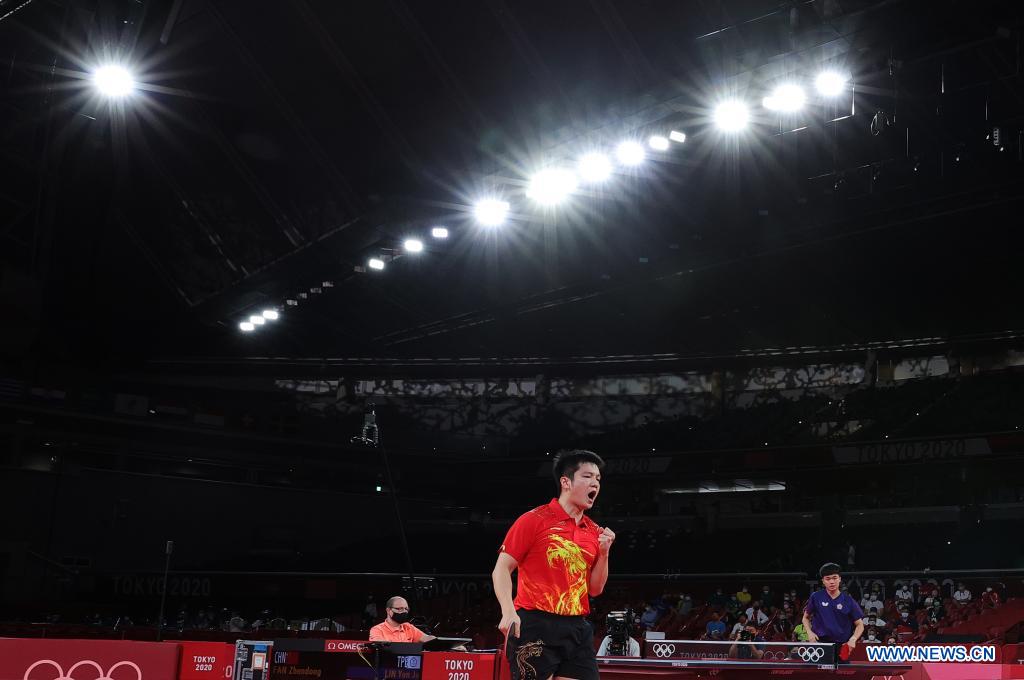 Fan Zhendong of China celebretes scoring during the men's singles semifinal table tennis match between Fan Zhendong of China and Lin Yun Ju of Chinese Taipei at Tokyo 2020 Olympic Games in Tokyo, Japan, July 29, 2021. (Xinhua/Wang Dongzhen)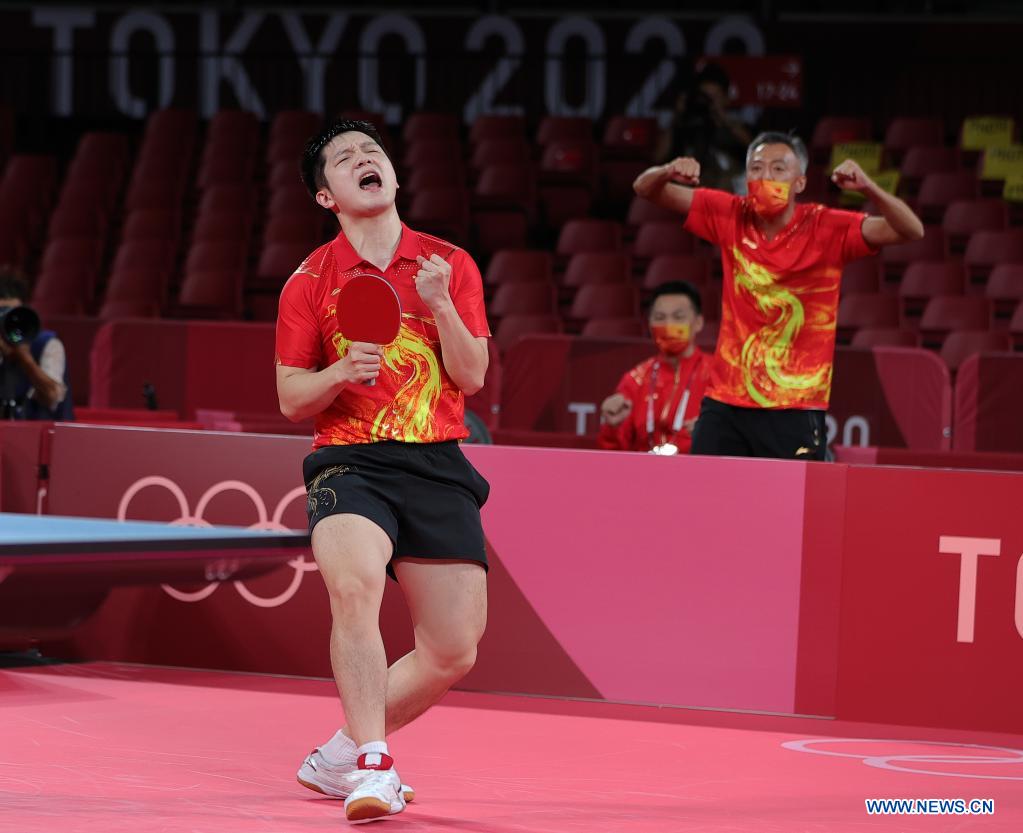 Fan Zhendong of China celebretes during the men's singles semifinal table tennis match between Fan Zhendong of China and Lin Yun Ju of Chinese Taipei at Tokyo 2020 Olympic Games in Tokyo, Japan, July 29, 2021. (Xinhua/Wang Dongzhen)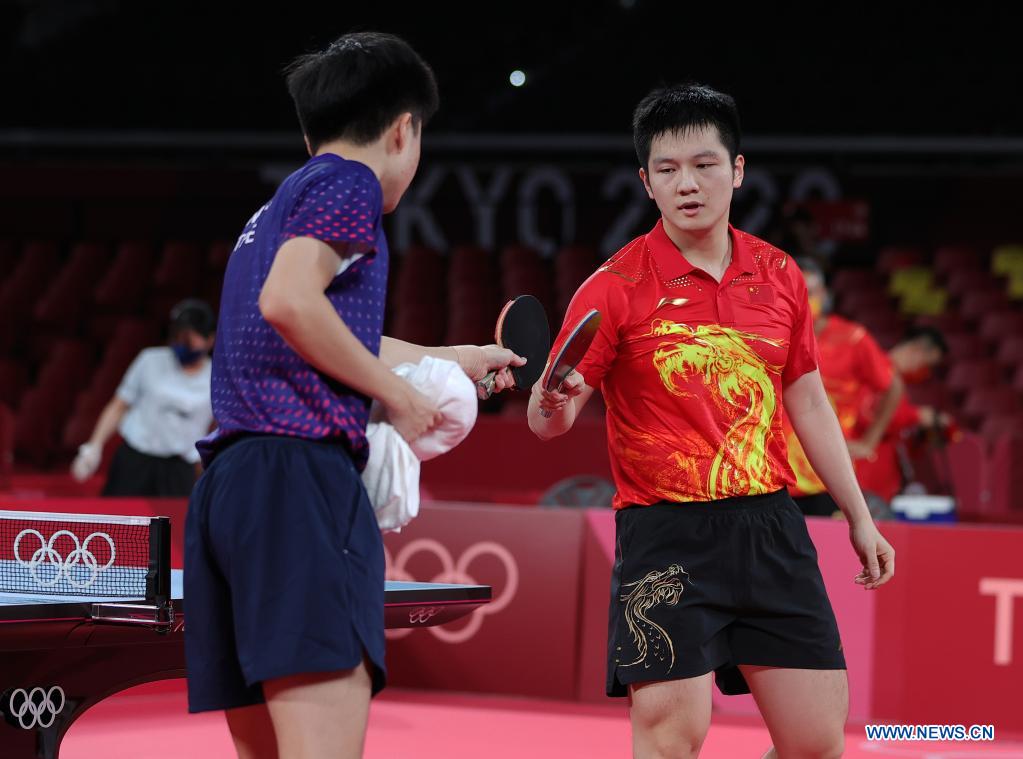 Fan Zhendong (R) of China greets Lin Yun Ju of Chinese Taipei after the men's singles semifinal table tennis match at Tokyo 2020 Olympic Games in Tokyo, Japan, July 29, 2021. (Xinhua/Wang Dongzhen)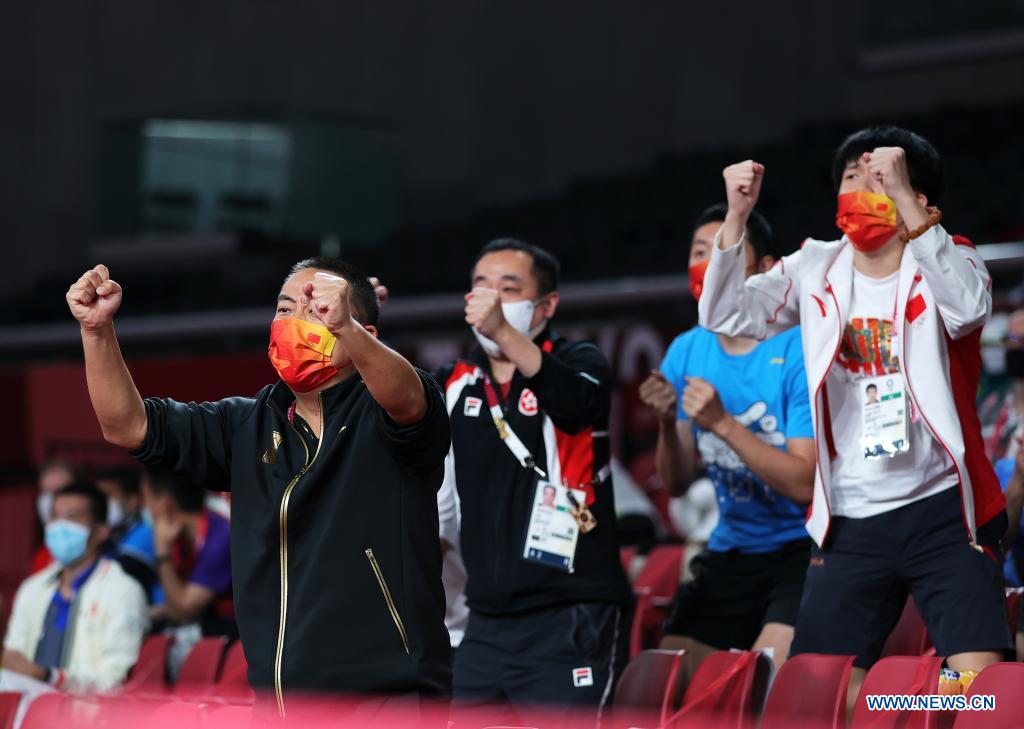 President of the Chinese Table Tennis Association Liu Guoliang (1st L) celebrates during the men's singles semifinal table tennis match between Fan Zhendong of China and Lin Yun Ju of Chinese Taipei at Tokyo 2020 Olympic Games in Tokyo, Japan, July 29, 2021. (Xinhua/Wang Dongzhen)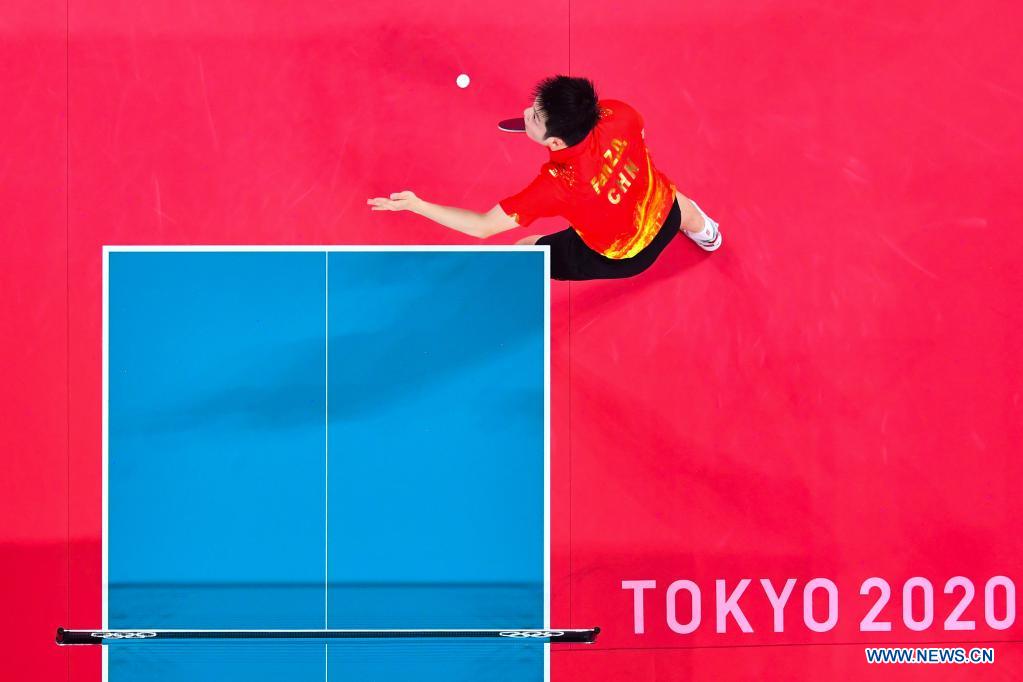 Fan Zhendong of China serves during the men's singles semifinal table tennis match between Fan Zhendong of China and Lin Yunju of Chinese Taipei at Tokyo 2020 Olympic Games in Tokyo, Japan, July 29, 2021. (Xinhua/Chen Yichen)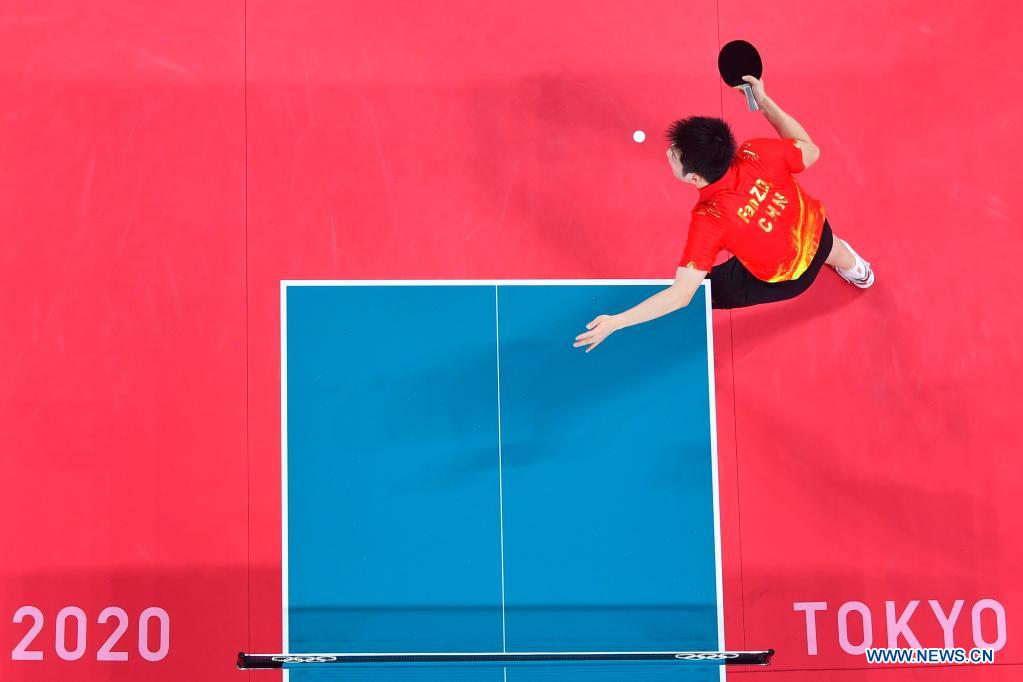 Fan Zhendong of China serves during the men's singles semifinal table tennis match between Fan Zhendong of China and Lin Yunju of Chinese Taipei at Tokyo 2020 Olympic Games in Tokyo, Japan, July 29, 2021. (Xinhua/Xu Zijian)