Bulls beat Celtics again; Raptors, Clippers rebound
2017-04-20 03:27:13 GMT
2017-04-20 11:27:13(Beijing Time)
Agencies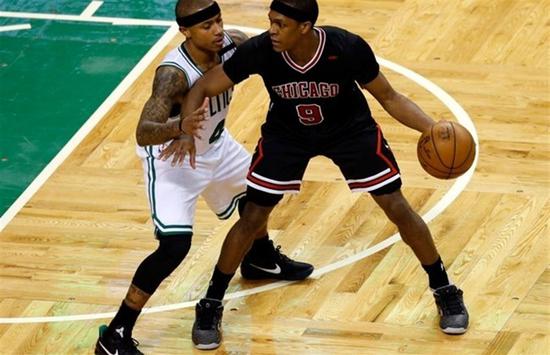 THE Chicago Bulls powered past the Boston Celtics 111-97 on Tuesday to take a 2-0 lead over the Eastern Conference top seeds in their NBA playoff first-round series.
The Bulls, who clawed their way to the eighth and final playoff spot in the East, are trying to become the first 8th seed to topple the top-ranked team in the opening round since the Philadelphia 76ers upset Chicago in 2012.
While both the Toronto Raptors and Los Angeles Clippers avoided their second straight defeats on Tuesday, the Celtics were again unable to solve Chicago.
The Bulls head home to Chicago for Game 3 with a 2-0 lead in the best-of-7 set thanks in large part to a vintage performance from Rajon Rondo.
Rondo, a former Celtic who won a title in Boston, narrowly missed the 11th playoff triple-double of his career with 11 points, 14 assists and 9 rebounds. He also had five steals and three blocked shots.
Dwyane Wade and Jimmy Butler scored 22 points each for the Bulls.
Celtics guard Isaiah Thomas, still reeling from the death of his sister, Chyna, in a road accident over the weekend, had a quiet night. He scored 20 points but made just six of 15 shots from the floor.
In Toronto, the Raptors beat the Milwaukee Bucks 106-100 to level their series at one game each.
In the only Western Conference game, the Clippers tied their series against the Utah Jazz at 1-1, with a 99-91 triumph.