Former NCAA Player Standout Dominates 2018 Sina 3X3 Golden League Xiamen Stop
2018-04-11 07:50:04 GMT
2018-04-11 15:50:04(Beijing Time)
Sina English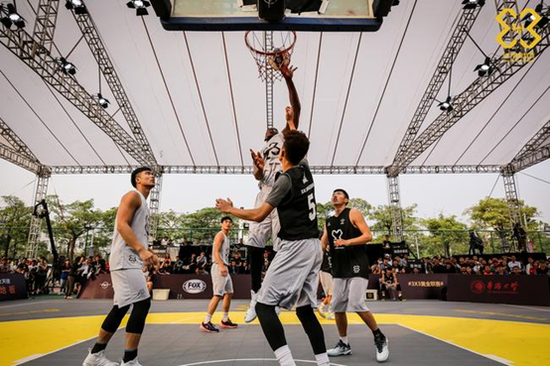 On March 18, the 2018 Sina Golden League 3X3 basketball tournament kicked off with the Xiamen stop, the first of 30 stops this year. In the final of the men's group, team Xiamen Hainiu Base beat team Lion King 21-6 in the final, claiming the championship for the Xiamen stop, and qualifying for the national final in Beijing in October where they will have a chance to win over $200,000 in prize money.
As a key contributor to the victory, former NCAA standout Tiras Wade gained 7 points and 4 rebounds. Tiras is a 6 foot 5 guard from Tampa, Florida who played for Louisiana-Lafayette and North Carolina State. During his college years, he earned First Team All-Sun Belt honors and was named conference Newcomer of the Year as a junior of Louisiana-Lafayette, leading the team to an NCAA Tournament appearance. Tiras led the team in scoring (20.4 ppg) and ranked second in rebounding (6.0 rpg). Tiras registered 20 or more points in 17 games, and exploded for career-high 37 points at North Carolina State. He also registered two double-doubles, including an 18 point, season-high 13 rebound performance at McNeese State.
In his professional career, Tiras Wade played in the Philippine Basketball Association, B.League in Japan, and NBA Summer League with Miami Heat. He played in Italy and France in 2005-2006 season, averaging 17.3 points and 5.9 rebounds in 19 games. Tiras finished the 2006-2007 season in Venezuela with Panteras de Miranda, averaging 8.6 points in five games. He also played briefly in the Dominican Republic, reaching averaged 28.0 points and 4.2 rebounds.
Tiras Wade is one of many former NCAA players to have participated in the Sina Golden League. Sina 3X3 Golden League is an annual 3X3 basketball tournament organized by Sina Sports. The-FIBA-certified 3X3 Golden League basketball tournament in 2018 season will cover 70 cities in 30 divisions across China. It is estimated to attract 16,000 teams and 64,000 participants to compete for a total bonus of $200,000. The winners will be sent to the Australian National Basketball League for training and have the opportunity to play in the league. As an important project symbolizing Sina Sports' transformation from media platform to a sports company, the Golden League has grown into the largest domestic 3x3 basketball tournament with sponsorship from well-known brands including MacDonald, PEAK Sports, WoAoo, TinSue and so on. On Weibo platform, the event is expected to generate 3.5 billion interactive topics and 1 billion video views, making it the most popular independent Sports IP event on Chinese social media.
About Sina Sports
Sina Sports is the #1 destination for sports fans in China. Established in 1998, Sina Sports was the first ever online sports platform in China, offering fans a diversified platform to access the sports news and games they care about, including on the web (sports.sina.com.cn), via mobile, and on the Sina Sports mobile APP.
Sina Sports licenses and partners with over 90 sports properties, including the European Champions League, Bundesliga, MUTV, the Masters, PGA Tour, LPGA, Australian Open, Wimbledon, UFC, and the National Basketball League of Australia.
Since 2015, Sina Sports has expanded its business to encompass its own sporting events including a FIBA-certified 3x3 basketball tournament that is the leading tournament of its kind in China, and the leading 5x5 football tournament in China, among others.
Contacts:
Roger Zhang, Sina Sports, yichi3@staff.sina.com.cn