Adams, Westbrook lead Thunder to rout of Pistons
2018-12-05 02:22:52 GMT
2018-12-05 10:22:52(Beijing Time)
Sina English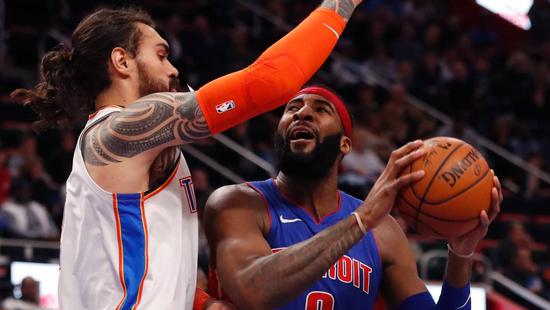 Steven Adams scored 21 points, Russell Westbrook added 18 and the Oklahoma City Thunder routed the Detroit Pistons 110-83 Monday night.
"I thought we played a very complete game," Oklahoma City coach Billy Donovan said. "There were things we could have done better, but I'm pleased that we went on the road and played this well against a very good team."
Paul George added 17 points for the Thunder, who are 15-3 since losing their first four games.
Detroit had won the first five games of a six-game homestand, including a victory over the Golden State Warriors on Saturday, but the Thunder held the Pistons to a season low in points.
"Their defense is very good — hats off to them," Pistons coach Dwane Casey said. "They came in with the right approach and we didn't. I take the blame for that. I didn't have us ready to play against one of the top defensive teams in the league."
Blake Griffin led Detroit with 20 points, while Andre Drummond added 13. The 33 points was 10.5 below their combined season average, and they combined for 11 rebounds after coming in with an average of 25.9.
"We didn't come out with any urgency, and that's entirely on us," Griffin said. "No coach can go out there and make us play hard. We need to take a hard look at this game and learn from what we did out there."
The Thunder double-teamed Griffin, and while he finished with four assists, he couldn't create easy baskets for his teammates.
"It is always tough to double Blake because he's such a good passer," Donovan said.
(SD-Agencies)