Australia book a FIBA World Cup final four berth for the first time
2019-09-12 04:34:30 GMT
2019-09-12 12:34:30(Beijing Time)
Xinhua English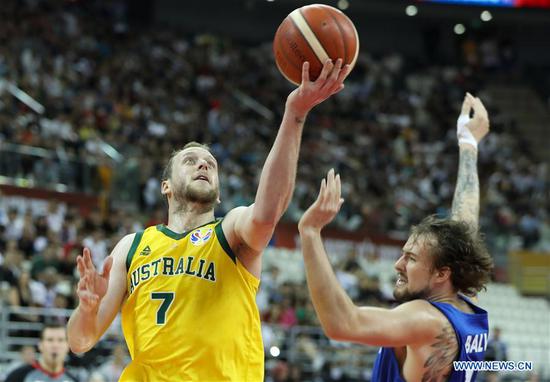 Joe Ingles (L) of Australia goes for a basket during the quarter-final match between Australia and the Czech Republic at the 2019 FIBA World Cup in Shanghai, east China, on Sept. 11, 2019. (Xinhua/Ding Ting)
SHANGHAI, Sept. 11 (Xinhua) -- Australia has qualified for the semifinals of the FIBA World Cup for the first time as they beat the Czech Republic 82-70 here on Wednesday.
Patty Mills finished with 24 points and 6 assists, Chris Goulding scored 14 points off the bench, Andrew Bogut added 10 points, while Joe Ingles collected 6 points, 5 rebounds, and 4 assists.
Patrik Auda had a team-high 21 points for Czechs, followed by Tomas Satoransky who pocketed 13 points, 13 assists, and 9 rebounds. Pavel Pumprla added 10.
"Basketball is not the number one sport in the Czech Republic. But, as we've seen in our country over the last year, during our qualification for the World Cup and even now, basketball is starting to get more attention. Especially now when we were able to make it out of the group all the way to the quarterfinals. I think we did a good job so far. Now the sport back home starts to be more recognized, more people will know about it and hopefully, that will bring some new players for us in the future." Patrik Auda of the Czech Republic said after the game.
Australia got off a good start on 13-8 with an 8-0 run before the Czechs answered with a 7-0 sprint, coming back on 15-13 in the first quarter. Australia took a 5-point lead with 20 seconds left before Patrick Auda made a hook shot for Czech to cut the deficit to three on 33-30 at the break.
Tomas Satoransky's three-pointers made it 41-all in the third quarter before Australia surged to a 16-2 run to usurped the lead on 57-43 and never looked back for the rest of the fourth quarter.