Beijing Ducks erase 21-point deficit to beat Beijing Royal Fighters 91-90
2019-11-27 03:16:27 GMT
2019-11-27 11:16:27(Beijing Time)
Xinhua English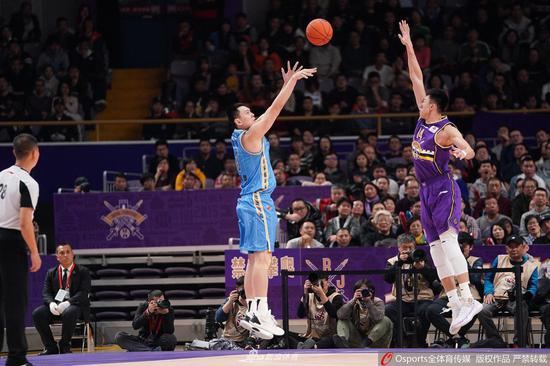 Without key player Jeremy Lin on court, Beijing Ducks recovered from the 21-point deficit to edge Beijing Royal Fighters 91-90 here on Tuesday, drawing an end to their two-game losing streak in the Chinese Basketball Association (CBA) league.
The Royal Fighters once led 73-52 after three straight three-pointers from Kyle Fogg, only to see the Ducks come from behind to take the victory thanks to the buzzer-beating three-pointer from Zhu Yanxi.
Justin Hamilton topped the Ducks with 24 points. Zhai Xiaochuan and Zhu made 18 and 17 respectively.
Beijing Ducks were down by four with 12.9 seconds left, and Fang Shuo's long-range shot cut the deficit to one. Then Royal Fighters' point guard Wang Zirui made one of his free-throws for the two-point advantage which wasn't enough for the Royal Fighters.
With 7.4 seconds remaining, Ducks forward Zhai Xiaochuan took the ball all the way to the other side of the court and passed it to Zhu who made the decisive basket to award the victory for the Ducks.
"It's very difficult to win a game after two losses," said Ducks head coach Yannis Christopoulos.
"Congratulations to the players, and they deserve the whole credit."
The two teams combined for merely 23 points in the first quarter due to tough defense from both sides. The Royal Fighters only made three field goals against four for the away team and the Ducks closed the first period with 14-9 advantage.
The second quarter started with a 14-5 spurt from the hosts. Sani Sakakini made all his four shooting attempts in the period to carry the Royal Fighter over their opponent 37-36 by the end of the first half.
Sakakini had game-high 26 points. Fogg added 16.