More Chinese think Olympic gold not all that important
2016-08-10 07:55:45 GMT
2016-08-10 15:55:45(Beijing Time)
Ecns.cn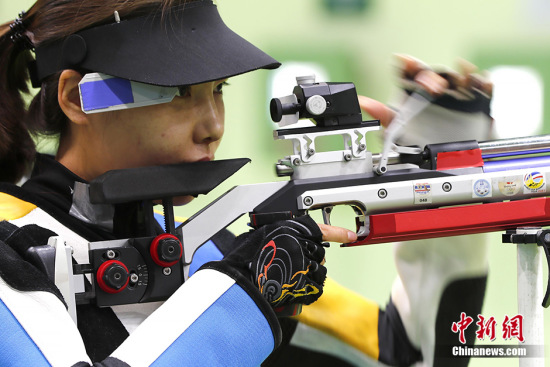 Women's 10m air rifle participant Du Li was expected to win the first gold medal at the Rio Olympics. (Photo/Chinanews.com)
Despite their team's failure to clinch a gold medal on the first day of the Rio Olympics, Chinese fans seem to care less about wining a gold and more about the sporting events itself, said a China Youth Daily opinion piece.
Former Chinese Olympic champion Du Li was expected to win the gold in the women's 10m air rifle event. But she and champion Yi Siling were both edged out by 19-year-old Virginia Thrasher of the United States. Many still gave Du the thumbs up, praising her great achievements so far.
The newspaper said some were unhappy about the amount of media attention given to those who could win the first gold medal for China.
China's Central Television (CCTV) vigorously highlighted "Expecting the First Gold" before broadcasting swimmer Sun Yang's race in the men's 400m freestyle. However, Sun lost to Mack Horton of Australia in a nail-biting contest.
Facing questions of how she felt about wining China's first gold in Rio, 25-year-old pistol shooter Zhang Mengxue smiled in surprise and said she didn't know it was the first one and felt nothing special.
On social networking sites, more Chinese fans showed tolerance and respect for athletes. "He has done his best. It it really important to win a gold medal?" said the message of an Internet user based on Sun Yang's silver medal result.
This is in stark contrast to the public mindset towards international sports in past years when the win of star hurdler Liu Xiang was usually discussed within a framework of national pride or using terms suspected of racial slurring.
The expectation was so overwhelming that Liu's mother called on netizens to "Please forgive Liu Xiang if one day he is not outstanding anymore."
Competition is always an integral part of sports, and it's simply natural to desire the ultimate victory. But among Chinese, more and more are acknowledging athletes are human beings too.
Zheng Yefu, a sociologist and also sports fan, said audiences like watching competitive games but it becomes a problem when the government invests too much money on winning gold medals.
Zheng added that the Olympics are games that can't represent a country's national power. Whether or not a sewage system works in heavy rain is more related to a country's national strength, he added.