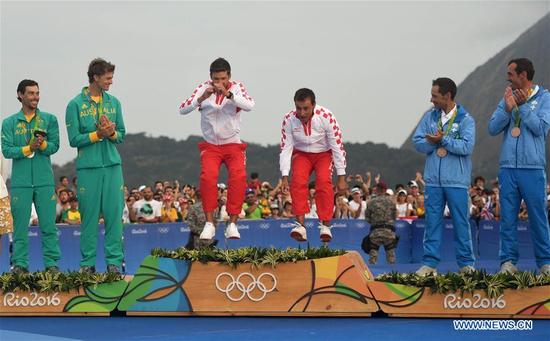 Gold medalist Croatia's Sime Fantela (3rd, L) and Igor Marenic(4th, L) jump onto the podium during the awarding ceremony for 470 men medal race of Sailing at the 2016 Rio Olympic Games in Rio de Janeiro, Brazil, on Aug. 18, 2016. (Xinhua/Li Ga)
RIO DE JANEIRO, Aug. 18 (Xinhua) -- Croatia took its first gold medal in sailing, winning the 470 men's event in the 2016 Olympic Games here on Thursday.
Sime Fantela and Igor Marenic did it for Croatia. This was also Croatia's fourth gold medal in the 2016 Olympic Games, a record for Croatia after three gold medals in 2012.
"I feel pleased, I feel great, and I feel calm. I feel relaxed now after nine days of racing. It was quite tough. We had plenty of challenges but these were the challenges that I said to myself we needed to overtake to achieve the medal," Fantela said after the victory.
His partner Igor Marenic added: "This is every athlete's dream to be on top of the podium, to win gold."
Australia's Mathew Belcher added silver to his gold medal from London 2012.
"It is a unique situation that all top teams had secured spots coming into this race. It was the first time in my career that I have seen that - it really shows that we put together a great performance."
"It has been amazing to get to today and fight for the gold medal. It is all you could ask for," his partner Will Ryan added.
Greece settled for a bronze, the fourth medal for the country in men's sailing.
"I don't know what to say," Panagiotis Mantis said after ending up in third. "We have been working hard for a podium finish."
Britain's Saskia Clark and Hannah Mills won gold in the 470 women's event.
At the age of 36, Clark became the oldest Olympic champion in 470 women in Olympic history. She was overjoyed about the result. "I think we're just going to smile like idiots for about a week," she said.
Silver medalists Jo Alen and Polly Powrie from New Zealand both claimed their second Olympic medal after their gold in 2012.
"We've battled this week - not much has gone our way, but all we could do was keep hanging in there," Powrie said.
Camille Lecointre and Helene Defrance handed France its third Olympic medal in women's sailing and its first in the 470 women's event by taking bronze.
Peter Burling and Blair Tuke from New Zealand claimed gold in the 49er men.
"Blair and myself obviously have to have a celebration. It's been a massive amount of hard work and dedication towards this goal for a long time so we're going to try and have a little bit of time off, but now it 's pretty much back straight into the America's Cup world after this," said Burling.
"To win a gold medal for your country is something every youngster dreams about, and when we set the goal to come here four years ago after we got silver in London we put everything in our lives towards that goal, and to realize it is an amazing feeling. Just really proud," Tuke added.
Nathan Outteridge and Iain Jensen from Australia took silver. Bronze medal went to Erik Heil and Thomas Ploessel from Germany.
Martine Grael and Kahena Kunze bagged gold for host Brazil in the 49er FX women's event.
It was Brazil's second medal in women's events in sailing, after a bronze in the Beijing 2008 Olympic Games in the 470 women event.
Alex Maloney and Molly Meech from New Zealand won silver. Denmark's Jena Hansen and Katja Steen Salskov-Iversen took bronze.
All the sailing competition wrapped up as Britain topped medal table with two gold medals and one silver. The Netherlands was second placed with two gold medals. Australia ranked third with one gold and three silver.