Sina 3x3 Basketball Golden League Page Unveiled on FIBA Website
2017-02-15 08:50:25 GMT
2017-02-15 16:50:25(Beijing Time)
Sina English
February 15, 2017 – The official page for the 2017 Sina 3x3 Basketball Golden League was officially published on the FIBA's 3x3 website earlier this week. The page can be viewed here: http://www.3x3planet.com/en/event/details/TMZ17AIBCZGVGZZZ. The Golden League is the flagship tournament of Sina's IP sports events series, which has expanded to include a nationwide 5x5 soccer tournament, a nationwide network of running clubs and events, weightlifting and fitness competitions. The tournament, which this March will enter its 3rd year, had previously been recognized as one of only three certified FIBA 3x3 tournaments in China.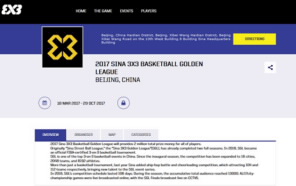 Sina 3x3 Basketball Golden League page on FIBA website
Launched in 2015, the Sina 3x3 Basketball Golden League has become one of the most exciting sporting events in China. The 2016 tournament consisted of 16 local qualifiers in different cities across China, attracting 8,192 athletes playing on a total of 2,048 participating teams. Sina also held non-basketball competitions as part of the event, including a dance as well as hip hop competition, with 104 and 112 competing teams, respectively. From the first tip until the last buzzer, the 2016Golden League lasted 106 days, with over 13,000 in-person audience members across all tournament venues.
The Golden League has already demonstrated its ability to attract television and web viewers. The tournament was broadcasted not only on Sina Sports but syndicated on a host of other digital media broadcasters as well. The tournament finals were broadcasted live on CCTV5. Total views on 2016 tournament videos reached 52 million, and the Golden League hashtag on Weibo logged over 240 million reads, the second-most for any sports event in China behind the CBA.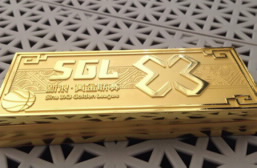 Official Golden League "Gold Bar" awarded to city champions
Sina has even bigger ambitions for the tournament in 2017. The Golden League will expand to 25 cities in which each city champion will be awarded a gold bar worth 30,000 RMB. After all city tournaments are complete, city champions will gather in Beijing to compete for the national championship. The national champion will be awarded all of the gold bars from each city, valued at 900,000 RMB. Altogether, Sina will award over 2 million RMB in cash prizes in this year's tournament. Sina estimates that the 2017 Golden League will attract 6000 teams and 20,000 athletes, including players from the CBA, CUBA, and NCAA.
In addition to its designation from and cooperation with FIBA, the Sina 3x3 Basketball Golden League has received other international recognition and accolades. In October of last year, the tournament entered into a strategic partnership with the Australian National Basketball League. As part of the partnership, the NBL will invite select players from the Golden League to Australia to try out for the chance to play professionally in the NBL.