Shanghai tops Beijing to clinch crown
2017-03-20 03:39:32 GMT
2017-03-20 11:39:32(Beijing Time)
Shanghai Daily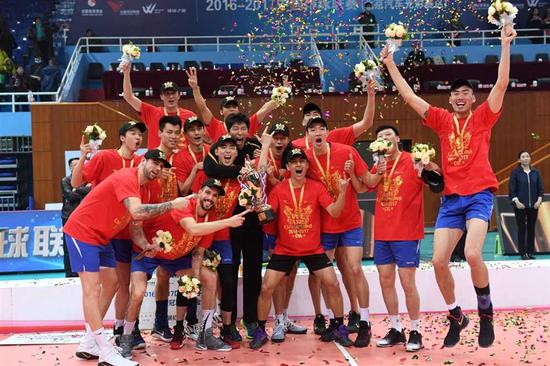 Shanghai men's volleyball team poses for pictures after beating Beijing 3-2 to clinch the Chinese Men's Volleyball League title in Game 4 of their playoffs in the national capital yesterday. It was Shanghai's third straight title and the 13th overall. — Xinhua
SHANGHAI men's volleyball team won its 13th national league title in a thrilling duel, beating Beijing 3-2 in Game 4 of their playoffs in Beijing yesterday.
It was also Shanghai's third successive league title. The team's 35-year-old head coach Shen Qiong, a former national team player, was named the coach of the year.
Shanghai won the first two rounds of the best-of-five finals before Beijing pulled one back. In yesterday's Game 4, the two sides staged a fierce tussle, each of them winning two sets to push the match to the decider.
Shanghai's foreign duo Gyorgy Grozer from Germany and Facundo Conte from Argentina, who have been the team's core players throughout the season, were impressive again in the decider as Beijing lost its pace and committed errors, including the final unsuccessful serve which gave away the victory.
Shanghai won the match 25-23, 22-25, 25-22, 23-25 and 15-9.
Grozer scored 36 points and Conte added 20 points in yesterday's final.
"Coming to this stage (of this year's league), the two teams knew each other so well," said an emotional Shen, unable to hold back tears.
"It was more about the mental game ... about handling the pressure instead of a competition of techniques."
On Saturday, Jiangsu won the women's title for the first time. The Nanjing-based team defeated Jiashan-based Zhejiang 3-1 (21-25, 25-23, 20-25, 20-25) in the fourth leg of the best-of-five final series at the Jiashan Gymnasium.