Sina Sport Collaborates with UFC to select the First Chinese Octagon Girl
2017-08-11 01:34:54 GMT
2017-08-11 09:34:54(Beijing Time)
Sina English
Sina Sports announced today a collaboration with the Ultimate Fighting Championship (UFC) to conduct a nationwide search for the first UFC Chinese Octagon Girl. Sina Sports will use Weibo to allow fans to vote for their favorite candidates.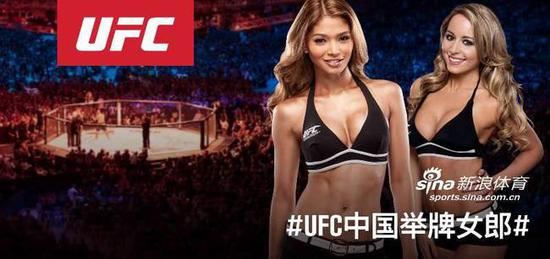 As UFC's official digital media partner in Mainland China, Sina Sports has been collaborating with UFC for 2 years. Sina Sports broadcasts some UFC events live, as well as promote the competition on both Sina Sports and Weibo.
The search will be conducted from August 10th until September 5th, as a part of Sina's Fitness Competition. The final winner shall have the chance to become the first Chinese Octagon Girl at UFC Night in Shanghai, on November 25th, 2017.
Founded in 1993, the UFC is the world's largest MMA event organization, with nine different weight levels, over 522 top male and female athletes from 56 different countries. Until June 2017, UFC has brought 401 wonderful games to audiences from 129 different cities in 20 countries
On November 25th, 2017, UFC will head to Shanghai, China for the first time, and be broadcast in 35 languages for 1.1 Billion audience from more than 163 countries and areas globally.
The selection will open to females aged 18 to 30, who love fitness and have positive energy. Contestants need to post their photos/videos/yizhibo(livestream) on Weibo. The total number of re-posts, comments and likes will account for 60% of the final result while professional judges 40%.
The selected octagon girl will be invited with other two international UFC octagon girls to walk on the stage, and participate the whole fighting week, exposing to global attention from fans of fighting. Meanwhile, the Chinese octagon girl will also have chance to become an international octagon girl for UFC's global events. Additionally, Sina Sports will sign the Chinese octagon girl as the ambassador for Sina Fitness, and have further cooperation in fitness.
About Sina Sports
Sina Sports is the #1 destination for sports fans in China. Established in 1998, Sina Sports was the first ever online sports platform in China, offering fans a diversified platform to access the sports news and games they care about, including on the web (sports.sina.com.cn), via mobile, and on the Sina Sports mobile APP.
Sina Sports licenses and partners with over 90 sports properties, including the European Champions League, Bundesliga, MUTV, the Masters, PGA Tour, LPGA, Australian Open, Wimbledon, UFC, and the National Basketball League of Australia.
Since 2015, Sina Sports has expanded its business to encompass its own sporting events including a FIBA-certified 3x3 basketball tournament that is the leading tournament of its kind in China, and the leading 5x5 football tournament in China, among others.
Contacts:
Li Jian, Sina Sports, jianli6@staff.sina.com.cn