Ding pulls out of Shanghai Masters
2017-11-14 02:36:51 GMT
2017-11-14 10:36:51(Beijing Time)
Shanghai Daily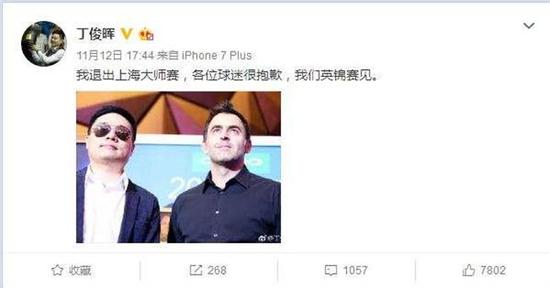 Ding Junhui announces his withdrawal on Weibo.
This week's Shanghai Masters will lack a major star attraction after home favorite Ding Junhui pulled out of the event.
Ding announced through his Weibo account on Sunday evening that he had withdrawn from this year's ranking event, without citing any reason. Reports, however, suggested that the current world No. 2 has been bothered by an eye ailment.
Ding suffered from viral conjunctivitis at the end of last month, which affected his performance at the 2017 Snooker International Championship in Daqing, northeast China's Heilongjiang Province.
Ding is the only player to have won the Shanghai Masters twice in the tournament's one-decade history. The defending champion was due to take on compatriot Mei Xiwen in the heldover on Monday evening. Mei automatically advances to the first round, where he will take on England's Adam Duffy.
Meanwhile, Ronnie O'Sullivan had to delay his arrival for the Shanghai tournament as "The Rocket" was in Coventry, England, for the 2017 Champion of Champions.
According to organizers, O'Sullivan's first-round match against fellow Englishman Gary Wilson, which was originally scheduled on Tuesday evening, had been rescheduled for Wednesday morning.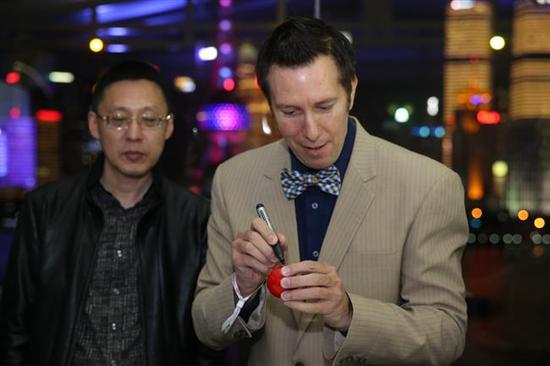 Welshman Dominic Dale, winner of the inaugural Shanghai Masters in 2007, signs autograph for fans at a promotional event on the city's iconic Bund on Sunday evening.