Team China win first medal in swimming at 2018 Summer Youth Olympics
2018-10-09 02:43:41 GMT
2018-10-09 10:43:41(Beijing Time)
Sina English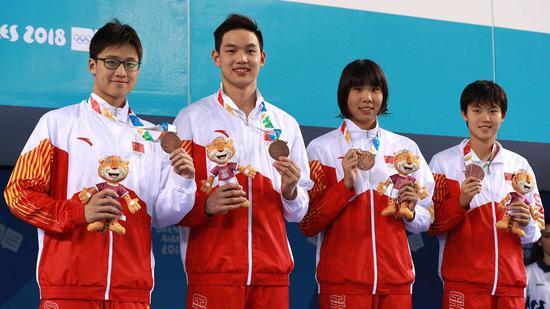 Team China took bronze in the mixed 4x100-meter freestyle relay swimming on Sunday at the 2018 Summer Youth Olympics in Argentina's Buenos Aires, which was also the country's first medal at the event.
In the qualifiers of the relay, China sent Shen Jiahao, Hong Jinquan, Yang Xintong and Yang Junxuan, who finished ranking third with three minutes and 33.76 seconds on their way to the final, after Brazil and Israel.
In the final on Sunday, Shen started first and ranked seventh with 50.83 seconds. Hong came after and sped up to 50.46 seconds while taking China's ranking to fourth. Lin finished her leg of the race with 55.44 seconds before Yang surpassed a competitor and helped the team take the bronze.
Russia won the gold with three minutes and 28.5 seconds. Brazil followed with silver after finishing the relay with three minutes and 30.13 seconds.
Kristof Milak from Hungary won the gold medal in men's 400m freestyle with three minutes and 48.08 seconds, defeating Italy's Marco De Tullio (three minutes and 48.55 seconds) and Japan's Keisuke Yoshida (three minutes and 48.68 seconds).
In women's 200m medley, Anastasia Gorbenko from Israel emerged as the champion with two minutes and 12.88 seconds. Anja Crevar from Serbia came in second with two minutes and 13.98 seconds while Cyrielle Duhamel took the bronze with two minutes and 14.15 seconds.
China's Wang Guanbin, Peng Xuwei and Sun Jiajun made it into the finals of men's 100m backstroke, women's 100m backstroke and men's 100m breaststroke, respectively.
Source: CGTN