FIVB Women's Club Championship: Zhu Ting returns in easy win for Vakifbank
2018-12-05 07:01:17 GMT
2018-12-05 15:01:17(Beijing Time)
Sina English
China's national volleyball team captain Zhu Ting marked her return to home soil with 16 points as her club side, Vakifbank, got past Zhejiang 25-20, 25-13, 25-13 in straight sets in the opening game of the FIVB Women's Club World Championship on Tuesday.
The 24-year-old received a warm welcome from Chinese fans, who were backing the local side against Zhu's Turkish club.
The home team took a 6-5 lead in the set but Ebrar Karakurt's serve leveled the score for the visiting side.
After a series of spikes and counter-attacks by both the teams, Zhu slammed one to get her side to set point and helped them eventually win it 25-20.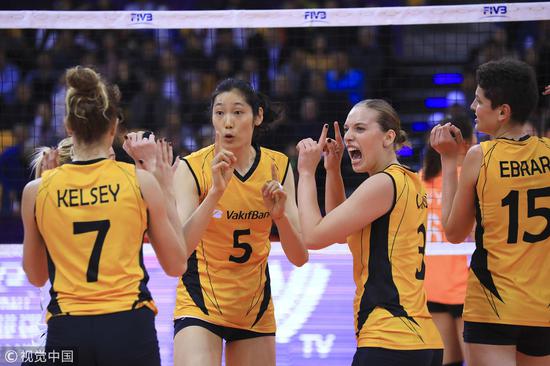 Zhu Ting (2nd, L) of Vakifbank Istanbul talks with teammates during the 2018 FIVB Women's Club World Championship match against Zhejiang on December 4, 2018. /VCG Photo
In the second set, the tourists took an early 6-3 lead and went on to consolidate it to 12-5 in no time. The Turkish club eventually won the set 25-13.
In the third, the home side continued to struggle as Zhu spiked to get Vakifbank off the mark in the set.
A straight-set victory was soon completed with a 25-13 win in the third set, helping the defending champions off to a winning start.
"I feel a bit different because I'm back to my home country, Zhu said after her side's victory. "I haven't played against a Chinese team for a while. It was very enjoyable, and we hoped we could give our best here."
Source: CGTN