Fan/Ding take second prelim game in table tennis worlds
2019-04-22 02:34:00 GMT
2019-04-22 10:34:00(Beijing Time)
Xinhua English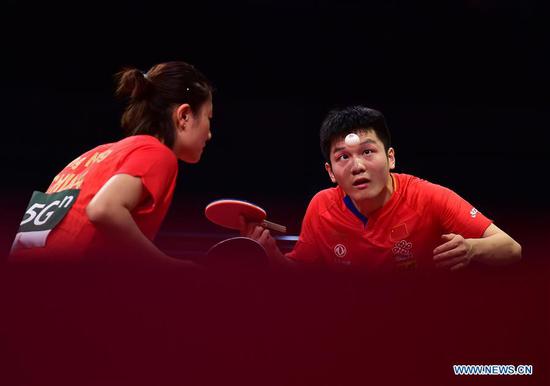 Fan Zhendong (R)/Ding Ning of China compete against Muhamad Ashraf Haiqal/Ying Ho of Malaysia during the mixed doubles preliminary second round match at 2019 ITTF World Table Tennis Championships in Budapest, Hungary, April 21, 2019. Fan Zhendong/Ding Ning won 3-0. (Xinhua/Lu Yang)
Top-seeded men's and women's players from China, Fan Zhendong and Ding Ning, took their second preliminary game in the mixed doubles at the World Table Tennis Championships here on Sunday.
The two players have to go through the preliminary round since they had never paired up in a major event.
Following an 11-5, 11-8 and 11-3 win over American duo Nikhil Kumar and Lili Zhang, Fan and Ding just allowed a total of 12 points in their second outing, beating Malaysia's Muhamad Ashraf Haiqal and Ying Ho 11-7, 11-3, 11-2.
"I felt good today," said Fan after his first win in Budapest. "I have got used to the stadium and played a normal game."
Ding Ning, three-time world singles gold medalist and Olympic champion, said she would take one step at a time.
"I will be getting into my top form game by game," she said.
Unlike Ding, Fan is still chasing an elusive world singles title.
"I hope I can win big this time," said the 22-year-old, singles runner-up to teammate Ma Long in the 2017 world championships.
Fan is expected to take on Ma in the singles semifinals while Ding will very likely fight for a final berth against fellow Chinese Liu Shiwen, who finished second to Ding in the 2015 final.
Headed by newly-elected Chinese Table Tennis Association President Liu Guoliang, the Chinese team is widely expected to sweep all the five titles at stake.