An upsets top-ranked Tai to help S. Korea over Chinese Taipei at Sudirman Cup
2019-05-23 03:03:24 GMT
2019-05-23 11:03:24(Beijing Time)
Xinhua English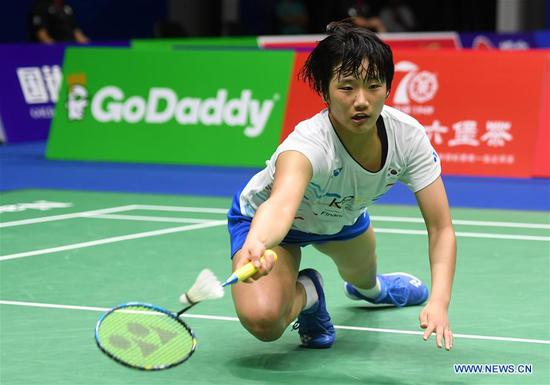 An Se Young of South Korea competes during the women's singles match against Tai Tzu Ying of Chinese Taipei in the group match between Chinese Taipei and South Korea at TOTAL BWF Sudirman Cup 2019 held in Nanning, south China's Guangxi Zhuang Autonomous Region, May 22, 2019. An Se Young won 2-1 as South Korea won 3-2. (Xinhua/Li Jundong)
NANNING, May 22 (Xinhua) -- Teenager An Se-young scored a big upset by toppling top-ranked Tai Tzu Ying 2-1 to pace South Korea for a 3-2 win over Chinese Taipei, qualifying for the quarterfinals as the Group 1C winner on the last day of the group matches at the 2019 Sudirman Cup here on Wednesday.
The 17-year-old An stunned the 24-year-old Tai 14-21, 21-18, 21-16 in 66 minutes in the women's singles, continuing her giant-killing momentum after the 50th-ranked South Korean scored an easy victory over the 27th-ranked Cheung Ngan Yi for an overall 4-1 win over Hong Kong, China on Monday.
Her surprising performance made up for South Korea's lackluster results elsewhere, who missed both 10th-ranked Sung Ji-hyun in the women's singles and 6th-ranked Son Wan-ho in the men's singles, as the 2017 Sudirman Cup champion also took the women's doubles and mixed doubles to push Chinese Taipei to the runner-up place in their Group 1C.
During the five-match battle, Chinese Taipei led two times and was caught up twice before losing the decisive mixed doubles when the 7th-ranked Chae Yu-jung and Seo Seung-jae downed Hsieh Pei Shan and Tseng Min Hao 21-10, 21-18 to seal the victory for South Korea.
Chinese Taipei took the opening men's doubles through the 27th-ranked Wang Chi Lin and Lee Yang who defeated Choi Sol-gyu and Seo Seung-jae 21-15, 21-13, before An won the women's singles to tie it 1-1.
In men's singles, the 4th-ranked Chou Tien Chen played to his level to beat the 2018 US Open winner Lee Dong-keun 21-12, 21-17 to help Chinese Taipei take the lead at 2-1. South Korean Chang Ye-na and Kong Hee-yong levelled the score again at 2-2 by beating Chang Ching Hui and Yang Ching Tun 21-13, 21-15 in the women's doubles.
The quarterfinals of 2019 Sudirman Cup will be played from May 23-24, with a draw to be made after Wednesday's matches.