Serbia, Croatia open with wins at Water Polo Super Finals
2019-06-19 03:20:32 GMT
2019-06-19 11:20:32(Beijing Time)
Xinhua English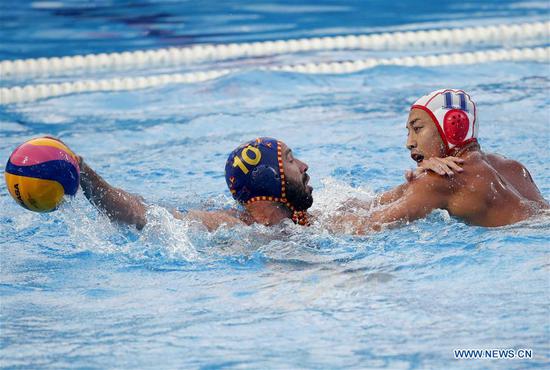 Spain's Felipe Perrone Rocha (L) vies with Japan's Keigo Okawa during FINA water polo superfinals group stage match between Japan and Spain in Belgrade, Serbia, on June 18, 2019. (Xinhua/Predrag Milosavljevic)
Spain's Felipe Perrone Rocha (L) vies with Japan's Keigo Okawa during FINA water polo superfinals group stage match between Japan and Spain in Belgrade, Serbia, on June 18, 2019. (Xinhua/Predrag Milosavljevic)
BELGRADE, June 18 (Xinhua) -- The opening day of the FINA Water Polo World League Super Finals in Belgrade on Tuesday was marked by victories for Olympic champions Serbia and world champions Croatia, despite heavy rain interrupting proceedings.
In the afternoon's first match, Croatia lived up to their world champion status with a dominating 20-4 win over Kazakhstan (5-2, 6-0, 3-0, 6-2), with Ante Vukicevic scoring four goals for the winning side.
In the second match, Canada surprised last year's Super Final runners-up Hungary, winning 10-9 (3-1, 2-3, 4-3, 1-2) thanks to an extra player in the pool in the final moments of the match.
Spain easily defeated Japan 18-10 (3-3, 6-3, 5-1, 4-3), after maintaining their advantage through most of the match.
The fourth match between Serbia and Australia was interrupted by heavy rain for almost one hour at the open venue in Belgrade. After the break, Serbia took a 12-8 win (4-5, 3-0, 4-3, 1-0).
Eight of the world's best national water polo teams are in Belgrade for the 2019 FINA Water Polo World League Super Finals, which are played here from June 18 to 23.
Participating teams are the best sides from the Intercontinental Cup and Europe, while the top-ranked team will secure an early ticket for the 2020 Olympic Games in Tokyo.
Highlights of Int'l Paris Air Show
In pics: bee collects sunflower pollen
Panda house opens to public in Xining, China's Qinghai
China's research vessel collects about 250 species during Western Pacific expedition
In pics: pothole landscape along Shenyu River valley in SW China's Sichuan
Qinghai-Tibet Railway: then and now
Lotus flowers in full blossom in central China's Hunan
Clouds seen after rain on Huangshan Mountain in China's Anhui