Chinese world champion swimmer Ning Zetao on role as Ligue 1 ambassador
2019-08-06 03:10:26 GMT
2019-08-06 11:10:26(Beijing Time)
Sina English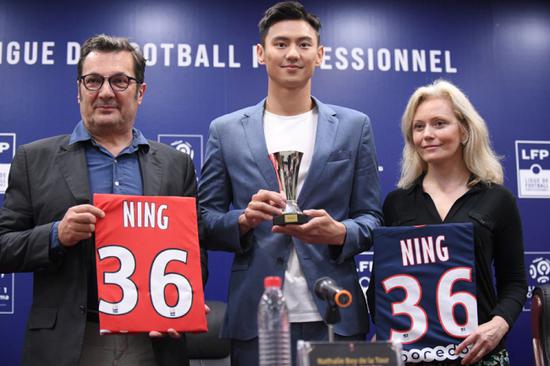 Ning Zetao (Center) is given two No.36 shirts from Ligue 1 clubs as he is appointed the Chinese ambassador of Ligue 1 in Shenzhen on Aug 2, 2019. [Photo: IC]
France's Ligue 1 has appointed former swimmer Ning Zetao as their Ambassador to China.
The ex-world champion was presented on 2nd August at Shenzhen in the south of the country.
A four-time gold medallist at the 2014 Asian Games and t he 100 metres freestyle world champion in 2015, Ning announced his retirement from swimming on his 26th birthday in March.
"I hope I can inspire more youngsters to love sport and be interested in football. I also hope I can get more Chinese youngsters to pay attention to Ligue 1 matches, as well as the experiences of Ligue 1 in youth training," Ning said.
The Trophee des Champions (French Super Cup) has been staged in the city of Shenzhen for the past two years.
Paris Saint-Germain beat Stade Rennes 2-1 to win the 2019 title.
Source: AP