Host Japan pockets first-ever women's team gold at Trampoline Worlds
2019-11-30 11:55:01 GMT
2019-11-30 19:55:01(Beijing Time)
Xinhua English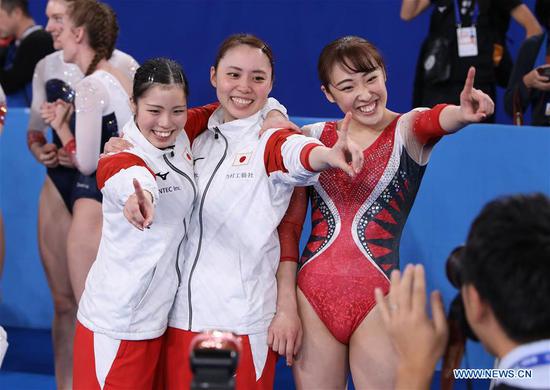 Satake Reina (L), Doihata Chisato (C) and Mori Hakaru of Japan pose for photos after winning the Women's Trampoline Team Final at the 34th FIG Trampoline Gymnastics World Championships in Tokyo, Japan, Nov. 29, 2019. (Xinhua/Du Xiaoyi)
TOKYO, Nov. 29 (Xinhua) -- The 20-year-old Mori Hikaru stamped her name into history book once again as Japan pocketed its first-ever women's team world title at the FIG Trampoline Gymnastics World Championships here on Friday.
Back in 2018, Mori already and her partner Megu Uyama became the first female gymnasts from Japan to win a gold medal in trampolining at the world championships.
Just like what the International Gymnastics Federation(FIG) president Morinari Watanabe expected on the eve of the event, the brand new Ariake Gymnastics Centre witnessed the very first golden memories before the Tokyo Olympic Games next year, created by his compatriots.
Mori Hikaru nailed 56.095 points to help Team Japan became the champion at a total of 165.225 points. Britain won the silver and Canada took the bronze.
The previous gold favorite Team China stumbled on its in-form star Liu Lingling. Liu, the first place holder of the qualification, failed to complete her routine and only got 11.390 points. Her teammates Li Dan and Huang Yanfei separately captured 55.500 and 54.925 points.
Chase for the men's trampoline team title was more intense. Leading by Rio Olympic champion Uladzislau Hancharou, Belarus surged to the top stand at a total of 180.390 points, narrowly edging out China by 0.040 points. Team Russia claimed the bronze at 178.540 points.
The 34th FIG Trampoline Gymnastics World Championships will run from November 28 to December 1 and also serve as a test event for Tokyo 2020. There will be the added incentive of up to 16 Olympic qualification berths on offer for the individual trampoline specialists.
A total of 336 gymnasts representing 37 countries and regions will be chasing 15 gold medals in the city's dazzling new Ariake Gymnastics Centre, host venue for Trampoline, Artistic and Rhythmic Gymnastics at the 2020 Tokyo Olympic Games.