Samsonov ousts China's Lin at ITTF Qatar Open main draw
2020-03-06 08:48:13 GMT
2020-03-06 16:48:13(Beijing Time)
Xinhua English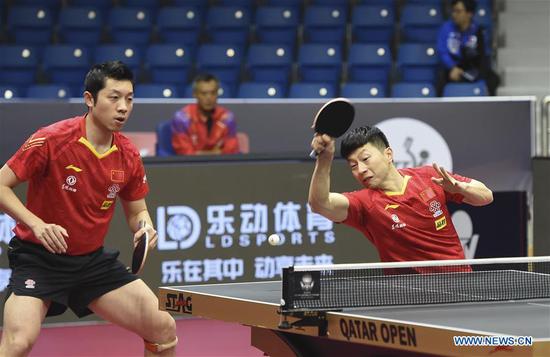 Ma Long (R)/Xu Xin of China compete during the men's doubles round of 16 match between Ma Long/Xu Xin of China and Anton Kallberg/Jon Persson of Sweden at 2020 ITTF Qatar Open in Doha, Qatar, March 5, 2020. (Photo by Nikku/Xinhua)
DOHA, March 5 (Xinhua) -- Five of 19 Chinese paddlers entering the singles main draw of the ITTF World Tour Platinum Qatar Open fell at the first round here on Thursday, including world No. 4 Lin Gaoyuan's surprising elimination in the men's singles.
The 25-year-old Asian Cup champion managed to pull his round of 32 clash against Belarus veteran Vladimir Samsonov into full sets but was eventually beaten 5-11, 11-8, 11-7, 9-11, 11-5, 6-11, 11-7.
Samsonov, 44, will next play Liam Pitchford of England, the 4-2 winner over Spaniard Alvaro Robles, to vie for a quarterfinal spot.
Japan's Harimoto Tomokazu, just 16 years old, was the other big name crushing out in the men's singles first round, beaten in six sets after 39-year-old Chuang Chih-Yuan of Chinese Taipei came back from two sets down to win 4-2.
Other Chinese players ousted on the first day of Qatar open main draw were Gu Yuting, who lost to Japanese sensation Ito Mima 4-1, He Zhuojia, beaten 4-1 by Shan Xiaona, representing Germany, Zhang Rui and Sun Mingyang, both losing in all-Chinese matchups.
Grand Slam winner Ma Long, current world No. 1 Xu Xin, No. 2 Fan Zhendong, qualifier Xu Chenhao, Wang Chuqin and Liang Jingkun all made through to the men's singles second round.
On women's part, Chinese captain Ding Ning, top seed Chen Meng, world No. 2 Sun Yingsha, fourth-ranked Wang manyu, qualifier Qian Tianyi, Zhu Yuling, Chen Xingtong and Wang Yidi earned their respective spots in round of 16.
All Chinese pairs have smoothly advanced in the doubles play, as Ma Long/Xu Xin and Fan Zhendong/Wang Chuqin reached the men's doubles quarterfinals, Chen Meng/Ding Ning and Wang Manyu/Zhu Yuling made the women's doubles last eight, and the sole Chinese mixed doubles pair Wang Chuqin/Sun Yingsha secured a berth to the semifinals.
Qatar Open, starting Tuesday and running through to Sunday, is the second stop of the ITTF World Tour Platinum events in the 2020 season, featuring a total of 28 paddlers from the Chinese table tennis team following reigning world champion Liu Shiwen's withdrawal.