Sina Sports hosted an exciting opening ceremony last night in Beijing to celebrate the momentous occasion
18 January, 2016 - BEIJING, CHINA – Sina Sports and Manchester United commemorated the launch of the club's dedicated 24-hour channel, MUTV, with an opening ceremony last night at Beijing Workers' Stadium "Second Stage" Event Center. Sina VP and General Manager of Sina Sports, Arthur Wei, and Manchester United Commercial Director of Asia Pacific, Jamie Reigle, were on hand to deliver remarks to over 130 fans and members of the media in attendance. The event also featured special appearances from Manchester United legendary fullback, Denis Irwin, and a number of famous Chinese football commentators. To promote MUTV, Sina Sports held a series of online and offline activities leading up to the event to engage fans. After the ceremony, guests stayed to watch their favorite club take on Liverpool live on the big screen, and were rewarded at the end of the evening with a 1 – 0 victory for the Red Devils.
Sina Sports becomes the exclusive broadcaster of MUTV in China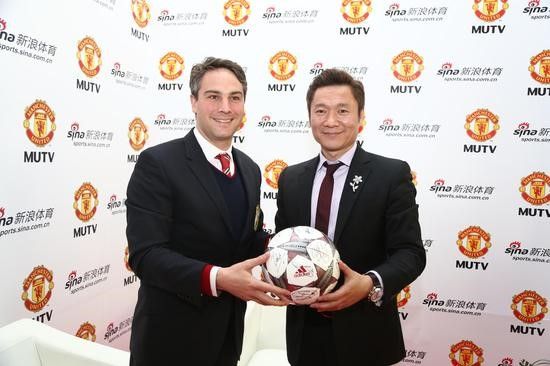 (Manchester United Commercial Director Jamie Reigle with Sina VP and GM of Sina Sports, Arthur Wei)
Since its inception in 1998, MUTV has attracted fans from all over the globe, reaching 35 million viewers worldwide this season. The launch in China is particularly historic, as it marks the 101st country in which MUTV is broadcasted. Manchester United chose Sina Sports, China's number one destination for sports fans, to be its exclusive broadcaster in China. Sina Sports offers a comprehensive digital sports media platform that provides many ways for fans to follow their favorite sports, including up-to-the-minute news, live games, and highlights, accessible on PC, mobile phones, and the Sina Sports mobile application. In addition, Sina Sports allows fans to become part of the action by hosting forums through its online applications, including on Sina Weibo, to discuss and comment on sports. The leading sports digital media platform has also expanded into hosting offline events to grow even closer to Chinese sports fans.
With the launch of MUTV on Sina Sports, users across China are now able to access expanded coverage of the latest Manchester United news, including delayed game footage and highlights, Louis van Gaal's weekly press conference, comprehensive game day coverage, as well as exclusive interviews of members of the club's front office, the coaching staff, and the team's starting players. Additional rich content such as documentaries, talk shows, club news, and more are also available on the 24-hour streaming channel. MUTV is sure to enrich the lives of Manchester United fans all across China, who can now access their favorite club through the live broadcast on Sina Sports at any time of the day.
Sina Sports harnesses and develops the energy of Chinese sports fans
Sina Sports has not only been working hard to provide fans with better quality content, but is truly aiming to help fans deepen their experience and understanding of sports. In the ten days before the MUTV launch, Sina Sports encouraged fans to get involved by sharing their own stories as Manchester United fans, as well as send in pictures that reflect their love and commitment to the club. One story highlighted during the ceremony struck a chord with the fans. A die-hard Manchester United fan beautifully shared the story of how every year he would proudly show his son his official Manchester United fan card, passionately telling stories to the child as he grew up about his favorite Manchester United moments, revealing how his identity as a Manchester United fan has greatly influenced his life. This story reminds us that sports have the power to bring people closer together, and can play an important role in strengthening the ties that bind together friends and family. During his speech, Arthur Wei reflected on this story, saying, "Football is not just a sport; it is also a culture, a spirit, and a common understanding shared by all of mankind. It is my hope that Sina Sports will always continue to strive to bring the best out of our fans, and to tap into the positive energy and passion that sports create."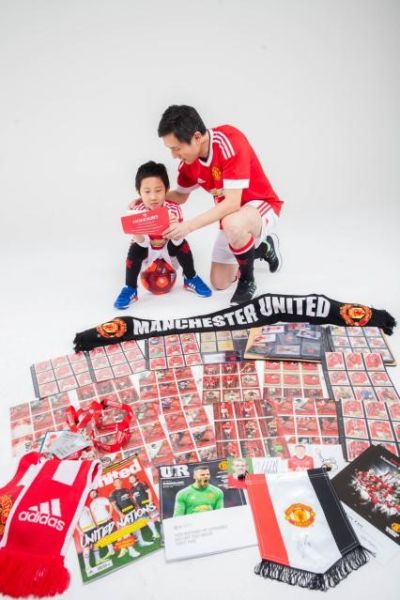 (A father shares with his son his passion for Manchester United)
A night of excitement and revelry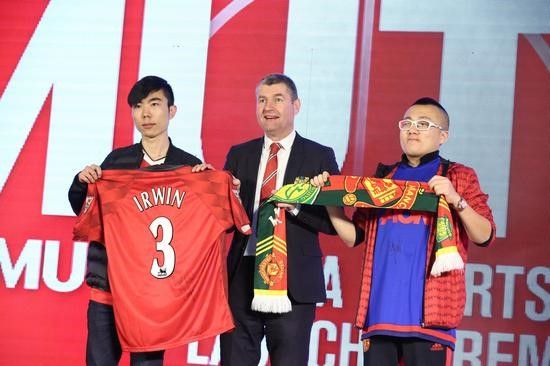 (Denis Irwin poses with Chinese fans)
Last night's opening ceremony was a thrilling evening filled with fun activities. One of the most exciting moments of the event came when Manchester United legend Denis Irwin was brought on stage. Fans began chanting Irwin's name at the top of their lungs, and then, led by Mr. Irwin himself, began singing the Manchester United fight song in unison. Irwin stayed for the entirety of the evening, presenting many Manchester United giveaways to anxiously awaiting fans. The fans honored Mr. Irwin by giving him a specially made plaque that thanked him for all of the great moments he created through his excellent performance on the field.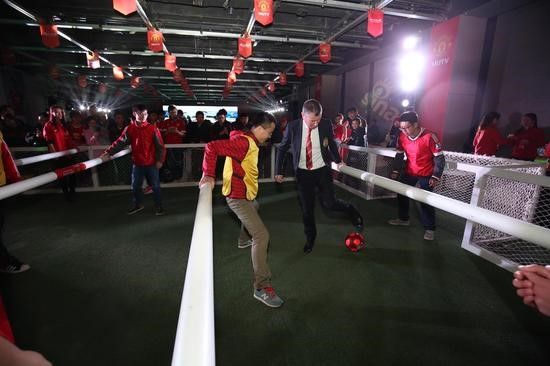 (Denis Irwin plays "life-size foosball" with lucky Chinese fans)
The ceremony ended promptly at 10:05PM Beijing time, just in time for fans to stick around to watch the Manchester United vs. Liverpool game live on the big screen. This marked the first time that fans could not only watch the game live, but at the same time could experience for themselves the rich content available on Sina Sports' new MUTV channel.
It was an evening that truly exhibited Sina Sports' commitment to enriching the lives of its users, a mission that will continue well into the future. Although the evening is over, MUTV's time in China has only just begun. Sina Sports is confident that this moment will be looked back at years from now as the start of a new era for Chinese Manchester United fans, an era in which fans redouble their efforts to support their favorite team while deepening and maturing their knowledge of the sport of football. This is where the world of sport is headed in China, and Sina Sports remains right at the center of the story.
About Sina Sports
Sina Sports is the #1 destination for sports fans in China. Established in 1998, Sina Sports was the first ever online sports platform in China. We offer fans a diversified platform to access the sports news and games they care about, including on the web (sports.sina.com.cn), via mobile, and on the Sina Sports mobile APP. We license and partner with over 90 sports properties including the European Champions League, English Premier League, AFC Champions League, WTA Zhuhai, NFL, UFC, MUTV, Dakar Rally, etc. We are truly the place that sports fans in China seek to not only watch sports matches, but continue the conversation and access sports news well after the matches are done.
For more information, please follow us on Twitter (@SinasportsChina) and LinkedIN (Sina Sports).
For media inquiries, please contact:
Dan Redford
SINA Sports, Beijing, China
Phone: (010) 6267 - 5554
Email: sports_ip@sina.com