Fear not a factor now for Monaco
2017-04-21 07:24:42 GMT
2017-04-21 15:24:42(Beijing Time)
Agencies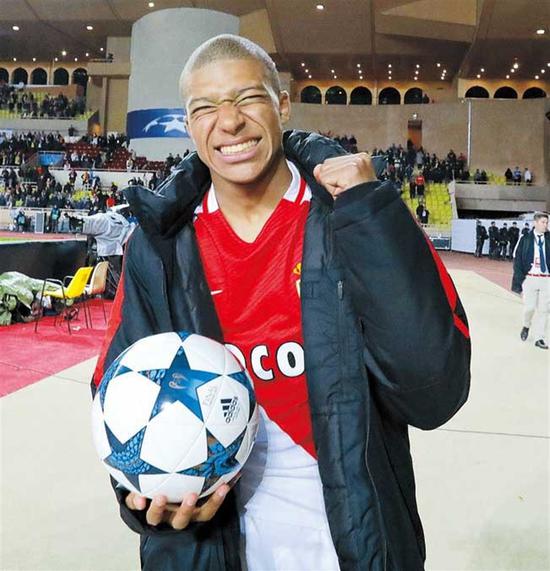 Monaco's Kylian Mbappe-Lottin celebrates after their quarterfinal second leg against Borussia Dortmund at the Stade Louis II in Monaco.
AFTER such a long journey to reach the UEFA Champions League semifinals, Monaco has no fear of who it plays next.
With good reason.
Monaco dispatched Borussia Dortmund 3-1 on Wednesday — with red-hot striker Kylian Mbappe-Lottin continuing his remarkable rise to stardom with another goal — to go through 6-3 on aggregate.
Coach Leonardo Jardim's spellbinding brand of attacking football has produced 141 goals so far this season, including three goals home and away in both knockout rounds.
Monaco reached the 2004 final against the odds, knocking out Real Madrid along the way, and they could meet again in today's draw. In another parallel, midfield great Zinedine Zidane was playing for Real back then and he is now the club's coach.
Monaco's other two potential opponents are Atletico Madrid — which lost last year's final to Real — and 2015 runner-up Juventus.
Some prospect.
But asked which side he feared the most, Jardim's answer spoke volumes for Monaco's confidence. "I think this question is something for our opponents now," the Portuguese coach said. "For them to worry about playing us."
Monaco has come a long way since July 27 last year — when it started in the qualifying rounds with a trip to Istanbul. Monaco got past Fenerbahce and then beat Spanish side Villarreal to reach the group stages.
Mbappe and resurgent forward Radamel Falcao scored early goals to put immediate pressure on Dortmund, which trailed 2-3 from the first leg of the quarterfinal in Germany.
Midfielder Marco Reus pulled one back in the 48th minute, but substitute Valere Germain added the third in the 81st to seal a 6-3 victory on aggregate.
Dortmund coach Thomas Tuchel accepted that his side fell short. "We knew we needed a performance of the highest level to turn things around, but that wasn't the case," he said.
The home leg in Germany was overshadowed by an attack on the Dortmund team bus as it headed to the stadium. Prior to Wednesday's game, Dortmund's bus was held up by police at the team hotel and kickoff was briefly delayed.
"We wanted to leave at 7:15pm. Everyone was prepared and in the bus, but we couldn't move for 16 or 17 minutes," Tuchel said. "The police was there to escort us and we asked them why we couldn't move and they just said 'for safety reasons.' You can imagine that eight days after the attack that (this is) the worst thing that can happen."