China suffer 2-0 loss to Germany at U20 Women's World Cup
2018-08-10 02:49:29 GMT
2018-08-10 10:49:29(Beijing Time)
Xinhua English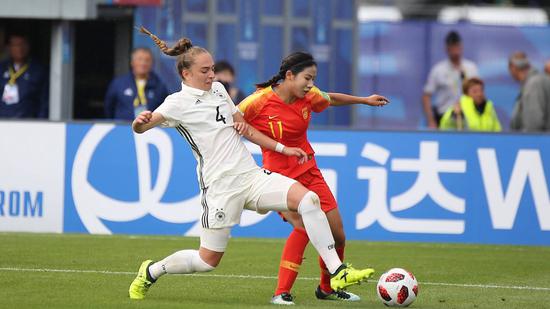 China lost to Germany 2-0 at the quarterfinals of the 2018 FIFA Women's U20 World Cup on Thursday.
"It's a game between two different philosophies," China's head coach Peter Bonde told Xinhua.
"Germany had great respect for us, and just waited for us to make mistakes. We dominated the ball, but it's hard for us to break down a strong team like Germany," he added.
Germany are one of four sides to have qualified for every final in the tournament, which they won three times.
Bonde dispatched the same starting 11 players as their first group match against Haiti. China restrained their strong opponents quite well in the first half hour of the head-to-head between two winning sides.
However, the three-time champions managed to find a way to move in front in the 31st minute, as Stefanie Sanders' cross picked out Giulia Gwinn, who fired a shot into the far corner.
Sanders, standing 1.78 meters tall, was a continuous threat to China's defense. After another shot was blocked by goalkeeper Xu Huan, which resulted in the followed-up corner kick, Sanders' striking partner Laura Freigang directed her teammate's delivery into the net in the 40th minute.
"If it was 0-0 until the halftime, it would perhaps have been different," admitted Bonde.
China had their response in the second half, as forward Xie Qiwen hit the post and captain Wang Linlin saw her curling shot go just beyond the crossbar, while Xu kept her goal intact through the second half.
Booking a yellow card in the 72nd minute, Xie will miss the final group match next Monday.
"I'm pleased with our defensive play and a lot of things, but it's hard for us to have really big chances," Bonde pointed out.
"It's a good experience facing those strong sides. I don't feel any pressure about it, and just focus on game after game, step by step," said China's forward Zhao Yujie, currently playing for NCAA's Florida State University.
Later on Thursday, Nigeria edged Haiti 1-0 on Rasheedat Ajibade's penalty. Germany became the second team to have advanced to the quarter-finals.
China and Nigeria will put on a head-to-head match next Monday for the other last eight spots in the group. Nigeria currently sit ahead of China on a goal difference.