Antonio Conte to sue Chelsea for unpaid salary and compensation
2018-11-09 01:33:59 GMT
2018-11-09 09:33:59(Beijing Time)
Sina English
Antonio Conte, former manager of Premier League's Chelsea insisted on suing the club in court. He claims he is owed unpaid salary as well as compensation for damages arising from his sacking. This could reach 26.2 million US dollars, reported Sky Sports News on Wednesday.
Besides the 14.8 million US dollars of unpaid salary, Conte also wants 11.4 million for damages. His lawyers have been working for weeks on the two separate cases. Chelsea have been trying to meet Conte in person so they could arrive at an out-of-court settlement.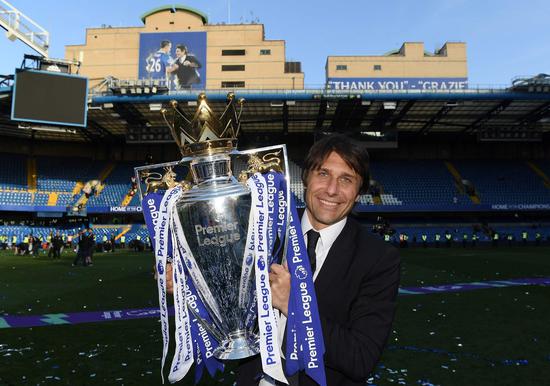 In his first season with Chelsea, Conte brings the 2016-17 Premier League title to Stamford Bridge. /VCG Photo
However, Conte turned down the request of a meeting and wanted to take it to an employment tribunal and the Court of Arbitration for Sport (CAS).
Sky Sports said that Chelsea refused to pay Conte because during his time with the club, the Italian manager behaved improperly including conflicts with the team's forward Diego Costa, not showing up at sponsorship events and being late for press conferences.
Conte became Chelsea's manager in July, 2016 and helped the club win their sixth title of the English top soccer league in his first season. Though he managed to win the trophy of the 2017-18 FA Cup, Chelsea ranked only the fifth place in the league and missed the next UEFA Champions League, costing Conte his job.
Since his replacement by Maurizio Sarri in 2018 summer, Conte's name kept being linked to some big clubs. In late October, He came very close to coaching Real Madrid when they fired Julen Lopetegui but in the end the club decided to have Santiago Solari for the job.
Agencies