Chinese women's footballers arrive in France, gear up for France World Cup
2019-05-25 12:03:59 GMT
2019-05-25 20:03:59(Beijing Time)
Xinhua English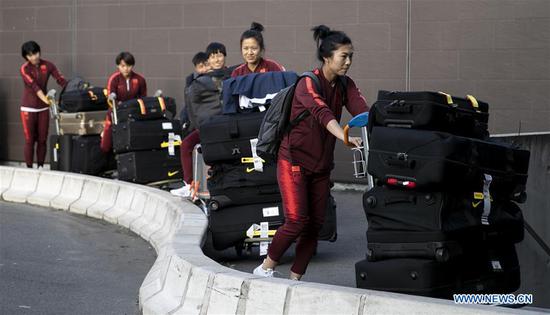 Chinese players wait to get on the bus upon Chinese women's national football team's arrival at the Charles de Gaulle Airport in Paris, France on May 25, 2019. Coaching staff, including head coach Jia Xiuquan, and 26 players landed here early morning on Saturday for final-phase preparation prior to the FIFA Women's World Cup. (Xinhua/Han Yan)
PARIS, May 25 (Xinhua) -- Chinese women's national football team arrived in France early Saturday morning for final phase preparation prior to the FIFA Women's World Cup.
Coaching staff, including head coach Jia Xiuquan, and 26 players landed at the Paris Charles de Gaulle Airport around 6 a.m. local time. They walked out of the airport with relaxed expressions on their faces.
The team then went to the training camp located in Auxerre, over one-hour drive from Paris, where they would recover from jetlag and adjust to the environment.
They will face hosts France in a friendly in Creteil on May 31 in the lead-up to the world's biggest footballing tournament.
The Chinese women's team have conducted last two-stage training in Suzhou and Beijing respectively before departing for France.
Jia told Xinhua in a recent exclusive interview that the squad has always been eying the World Cup title.
"It's me who said our aim was to reach the final of the Women's World Cup, however, we might go even further and win the championship. This the target I set for my squad," he said, adding that the whole team and himself have kept a clear mind in the meantime.
China is placed in Group B along with Germany, Spain and South Africa at the quadrennial soccer tournament, which will be held from June 7 to July 7 in nine French cities. China will kick off their campaign against second-ranked Germany in Rennes on June 8. Enditem