Sina 5x5 Golden Futsal League 2019 Secures Chery Arrizo as Title Sponsor
2019-09-12 12:47:55 GMT
2019-09-12 20:47:55(Beijing Time)
Xinhua English
Sina Sports announced Chery Arrizo as the title sponsor of the 2019 edition of its 5X5 Golden Futsal League (SGFL). Chery, a state-owned Chinese automobile manufacturer as well as a joint venture of Jaguar Land Rover, has been one of the largest automakers in China.

The 5X5 Golden Futsal League is a flagship event independently operated by Sina Sports. It is the most influential 5X5 football event with the largest scale and commercial value in China. Through this title sponsorship, Chery Arrizo will take the brand as the carrier, the product as the foundation and the event as the means, to achieve multi-sports marketing that features a wider range of coverage and targets at younger and fashionable consumers.
"The champion spirit that Chery hones is the epitome of today's youth. We will continue to maintain close relationships with our customers through a younger approach. In partnership with Sina Sports, the Sina 5x5 Golden Futsal League due to kick off later this year will be covering the whole China and appeal to passionate youths," said Li Dongchun, Deputy General Manager of Chery Marketing Corporation.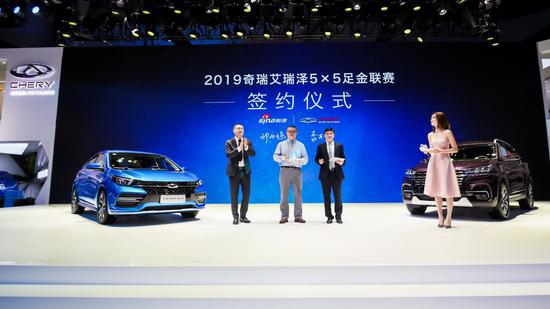 The 2019 edition Chery Arrizo Sina 5X5 Golden Futsal League, with the theme of "Champion's strength, Unmatched" will cover 13 cities including Nanjing, Wuhu, Beijing, Qingdao, Zhengzhou, Xi'an, Nanning, Chongqing, Wuhan, Hangzhou, Chengdu and Shenzhen. It is estimated that over 8,000 football players will participate in this event. After all the city stops in four months, the final championship will be held in December in Guangzhou. The champion team of each city will compete for the annual final championship.
"After four years of development, the SGFL has created its unique model of sponsorship to maximize brand exposure through its platforms. Especially in the case of automobile brands, we integrate online and offline resources with campaigns such as test-driving sessions. Sina Sports has industry-leading experience and capacity in sponsorship service. We look forward to introducing more brands to activate and create more values for the brands," said Deng Qingshi, Senior Vice President of Sina.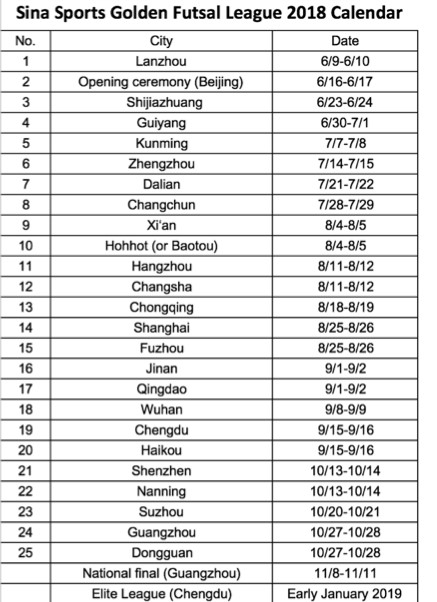 This year, SGFL appointed Ma Mingyu, the former captain of Chinese national team of the 2002 FIFA World cup, as the "golden coach" as well as well-known soccer commentators such as Rachel Liu and Xu Yang. With four years development, the Sina 5X5 Golden Futsal League is China's one of the most influential and commercially valuable sporting events.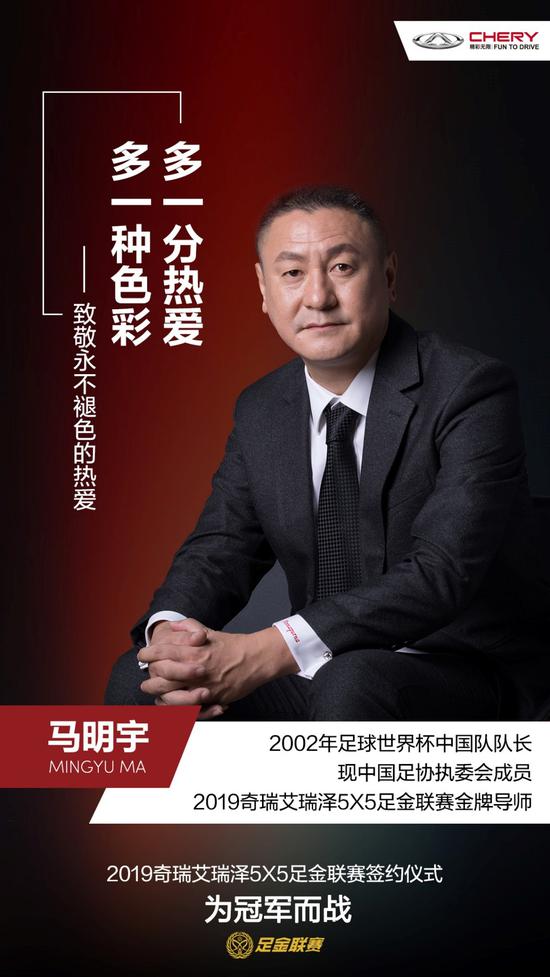 About Sina Sports
Sina Sports is the #1 destination for sports fans in China. Established in 1998, Sina Sports was the first ever online sports platform in China, offering fans a diversified platform to access the sports news and games they care about, including a website (sports.sina.com.cn), via mobile, and on the Sina Sports mobile app.
Since 2015, Sina Sports has expanded its business to creating its own offline sporting events including world's largest FIBA-certified Sina 3X3 Golden League basketball tournament, Sina 5X5 Golden League, the leading futsal tournament in China, and the FIS-endorsed alpine skiing competition.
PR Contact
Roger Zhang
Yichi3@staff.sina.com.cn