Philippines holds China to draw at FIFA World Cup qualifier
2019-10-16 02:00:04 GMT
2019-10-16 10:00:04(Beijing Time)
Xinhua English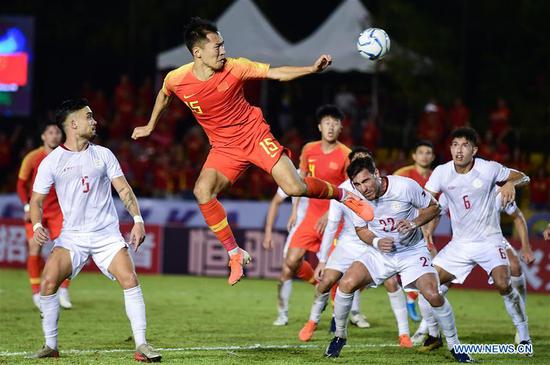 Wu Xi (Top) of China heads for the ball during the group A match against the Philippines at the FIFA World Cup Qatar 2022 and AFC Asian Cup China 2023 Preliminary Joint Qualification Round 2 in Bacolod, the Philippines, Oct. 15, 2019. (Xinhua/Du Yu)
BACOLOD, the Philippines, Oct. 15 (Xinhua) -- Former English Premier League goalkeeper Neil Etheridge's outstanding performance helped the Philippines men's national football team to hold powerhouse China to a scoreless draw in the 2022 FIFA World Cup Asian qualifier at the Panaad Stadium here on Tuesday.
The 29-year-old Filipino, who missed the hosts' first two qualifying games due to injury, delivered a standout game on goal with several saves at stoppage time on Hao Junmin's strike, while captain Stephan Schrock led by example with a workmanlike display as the Philippines achieved their biggest result to date.
"It's nice to come back and play in the national team. It's been a long time being out just due to the international date and make a coming back from injury," said Etheridge during the post-game press conference.
China had one final attempt to leave the Panaad Stadium with a win, but their last-second corner at 91st minute went straight into the hands of Etheridge to seal the draw and secure the point.
"I'm satisfied with the player's performance in the second half. If we played like that in the first half, we will score and win the game," said China's head coach Marcello Lippi after the match.
"Players have been misled by the one-sided wins in the previous games at the qualifiers, but the result proved that they are wrong," the Italian added.
Brazilian-born Ai Kesen joined La Liga side Espanyol striker Wu Lei in the start list with Yang Xu, but they are all of the visitors' strikers, Wei Shihao and Yang Liyu cut from the 23-man squad announced by Lippi few hours before the game kicks off.
"We pick nationals from the playing condition, not the position," said Lippi, stressing that he does not think cutting the strikers out is not acceptable.
The Philippines also had a golden opportunity to break the deadlock with two minutes left in injury time, but Schrock's attempt went high and wide.
With the win, the hosts secured their first point against China in three matches this year.
"We're gonna be moving forward, we're gonna be competing at the top Asian level, and today's result has shown that we can do that," said Scoot Cooper, the assistant coach to the Philippines.
The hosts now sit at the third place in Group with one win, one draw and one defeat, while China is still unbeaten with two wins and one draw.
The Team Dragon will next play against Syria, the main rival in Group A, on Nov.14 in an away match. While the Philippines will also fly to Male for the bout with the Maldives.
A total of 40 teams will play across eight groups in the second round of the qualifiers. Eight group winners and the four best runners-up will qualify for the next round.