Own goal gifts Syria 2-1 win over China in FIFA World Cup qualifier
2019-11-15 02:46:05 GMT
2019-11-15 10:46:05(Beijing Time)
Xinhua English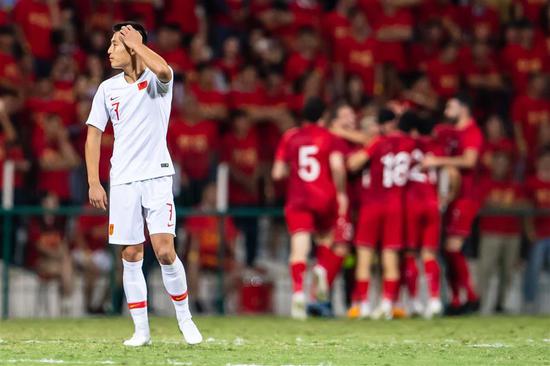 Chinese player Wu Lei is disappointed after his side lost to Syria 1-2 in a 2022 FIFA World Cup Asian Zone qualifier at Rashid Stadium on Thursday.
DUBAI, Nov. 14 (Xinhua) -- A second half own goal gifted Syria a 2-1 win over China in a 2022 FIFA World Cup Asian Zone qualifier at Rashid Stadium here on Thursday.
Marcello Lippi's side now sits in second place in the five-team Group A with seven points from four games, five points behind group leader Syria.
Having seen an unexpected 0-0 draw with the Philippines on October 15, China are in danger of missing the final round of the Asian Zone qualifying. Only the top team from the eight groups and the four best second-place finishers will advance.
Desperate to win the match in Dubai, the Chinese team went into the game highly with Espanyol forward Wu Lei coming close to score in the sixth minute, but his close-range shot went high above the bar.
Syria opened the scoring in the 19th minute when Osama Omari jumped high in the box to head the ball past Chinese goalkeeper Yan Junling.
Their joy was short-lived, however, as China leveled the score 10 minutes later through Wu Lei, who fired home a pinpoint cross from Wu Xi after a Syrian player failed to clear the ball on the edge of the penalty box.
The two sides looked rather balanced in the second half until Chinese defender Zhang Linpeng deflected substitute Omar Khrbin's pass into his own net in the 76th minute.
China have not qualified for the World Cup finals since its debut appearance in 2002, when Bora Milutinovic's team lost all three games in South Korea against Costa Rica, Brazil and Turkey.