Players champ Kim ready for military service
2017-05-16 05:47:31 GMT
2017-05-16 13:47:31(Beijing Time)
Agencies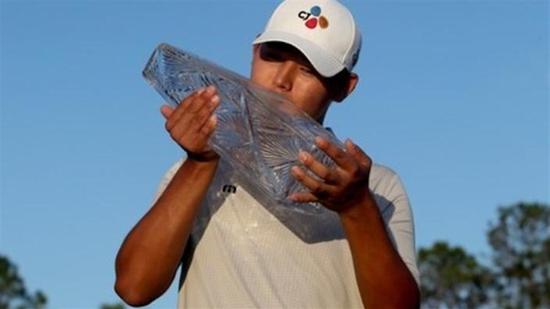 KIM Si-woo's victory at The Players Championship on Sunday burnished the South Korean's reputation as one of the best young talents on the PGA Tour but the 21-year-old knows his career will soon have to take a back seat to defending his country.
South Korea requires all able-bodied men between the ages of 18 and 35 to complete at least 21 months in the military as a deterrent to North Korean aggression.
It offers exemptions to athletes who win a medal of any color at the Olympics or gold at the Asian Games.
Unfortunately for Kim, winning the PGA Tour's flagship event does not bring an exemption. "I really wish we could have that benefit," Kim told reporters on Sunday. "However, regardless of me winning this tournament I really have to go to the military service, and I've already decided I'm going to go so I'm ready for that."
Kim's compatriot Bae Sang-moon, another two-time winner on the PGA Tour, lost a legal battle to defer his military service in 2015. He is expected to return for the 2018 season though it is unclear how much time it will take him to regain top form after two years away from competitive action.
Kim, who said he had not decided when he will undertake his military service, delivered an impressive three-stroke victory over Ian Poulter and Louis Oosthuizen in Ponte Vedra Beach, Florida.
The win was Kim's second on the PGA Tour and earned him a five-year exemption on the Tour.
Kim became the second South Korean to win the event after KJ Choi in 2011 and he said he hoped his victory would help inspire his countrymen to raise their game. "I really wish I could be a good example of the Korean men's players. The Korean ladies are dominating the LPGA Tour, so I was kind of jealous seeing that and I wanted to represent Korea very well."