Venus sets up final with Muguruza
2017-07-14 03:14:49 GMT
2017-07-14 11:14:49(Beijing Time)
Agencies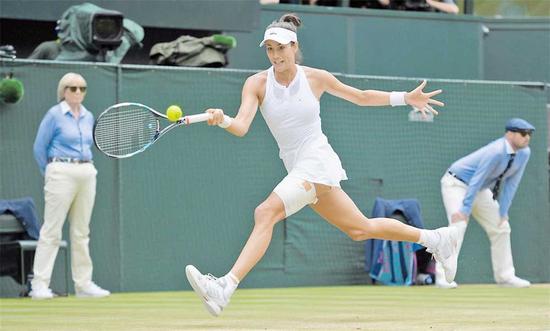 Garbine Muguruza returns to Slovak Magdalena Rybarikova during their Wimbledon semifinal at the All England Club in Wimbledon, southwest London, yesterday. The Spaniard won 6-1, 6-1. — Reuters
VENUS Williams reached her ninth Wimbledon final and first since 2009, turning in a display of gutsy serving to beat Johanna Konta 6-4, 6-2 yesterday.
At 37, Williams is the oldest finalist at the All England Club since Martina Navratilova was the 1994 runner-up at that age.
She also stopped Konta's bid to become the first woman from Britain in 40 years to win Wimbledon.
Williams will be seeking her sixth Wimbledon championship and eighth Grand Slam singles title. Her most recent came in 2008, when she beat younger sister, Serena, for the title. A year later, she lost to Serena.
In the time since, Williams revealed that she was diagnosed with Sjogren's syndrome, which can sap energy and cause joint pain. As time went on, there were questions about whether she might retire, especially after a half-dozen first-round losses at major tournaments. But she kept on going, and lately has returned to winning.
Her resurgence began in earnest at Wimbledon a year ago, when she made it to the semifinals before losing. Then, at the Australian Open this January, Williams appeared in the final, where she lost to her sister.
Tomorrow, the 10th-seeded American will be in her second Grand Slam final of the season, this time against 14th seed Garbine Muguruza of Spain.
In the first semi, Muguruza overwhelmed 87th-ranked Slovak Magdalena Rybarikova 6-1, 6-1 in just over an hour.
Williams' semifinal was more competitive, at least at the outset. Indeed, it was Konta who had the first chance to nose ahead, standing a point from serving from the opening set when it was 4-all and Williams was serving down 15-40.
Williams erased the first break point with a backhand winner down the line, and the second with a 171 kph second serve that went right at Konta's body. It was a risky strategy, going for so much pace on a second serve, but it worked. That opened a run in which Williams collected 12 of 13 points and seized control.
She wouldn't face another break point the rest of the way. Konta played well, especially early, and hit six aces — three in a single game — before Williams had one. In the end, she had produced more winners, 20 to 19.
Williams, though, has so much more experience in these circumstances, and it showed down the stretch. This was her 10th semifinal in 20 Wimbledon appearances; Konta had never been past the second round at the grasscourt tournament before.
There was also a meaningful gap in the track records of the other semifinals, and it made a difference right away. Muguruza won 15 of the first 20 points en route to a 5-0 lead, before Rybarikova at last managed to win a solitary game, 26 minutes into the match. That, though, was followed by another five-game run by Muguruza.
Even though Rybarikova entered having won 18 of her past 19 grasscourt matches, mostly at lower-level tournaments, she suddenly looked a lot more like someone whose career record at Wimbledon before last week was 2-9.
Muguruza, 23, earned a berth in her third career Grand Slam final, second at the All England Club. She lost to Serena with the title on the line at Wimbledon in 2015, then beat her for in the French Open final last year.