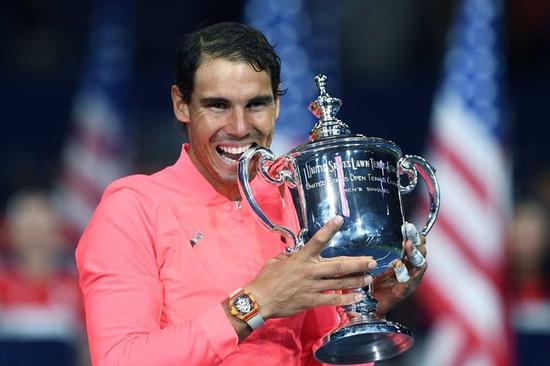 Spain's Rafael Nadal poses with the trophy after defeating South Africa's Kevin Anderson 6-3, 6-3, 6-4 in the US Open men's singles final at the USTA Billie Jean King National Tennis Center in New York on Sunday. — AFP
RAFAEL Nadal entered the 2017 Grand Slam season on a 2-1/2-year drought without so much as one appearance in a major final, let alone a title. He ends it having reasserted himself, capped by a US Open final that shaped up as quite a mismatch — and turned out to be exactly that.
His game at a higher level than it needed to be by the end of an unusually easy path through the field, Nadal overwhelmed Kevin Anderson 6-3, 6-3, 6-4 on Sunday to win his third championship at Flushing Meadows.
"Of course, after a couple of years without competing at this very high, high level," Nadal said, "very happy to be back."
The No. 1-ranked Nadal collected his 16th Grand Slam trophy overall and at his news conference, he wore a white T-shirt listing the date and site of each one. Among men, only Roger Federer has more, with 19. Each of those two longtime rivals won two of the four majors this season, marking their return to the heights of their sport.
Nadal has dealt with knee and wrist problems, both likely a result of his physical brand of play, over his career, but 2015 and 2016 were his first seasons without reaching at least one Grand Slam final since 2004, when he was still a teenager.
Seems safe to say that, at age 31, he is once again the Nadal of old.
"I mean, I've always said he's one of the, obviously, greatest players of our sport, obviously feeling very confident," Anderson said. "He seems to have turned around a lot of those injuries he's experienced the last couple of years. I guess time will tell on that."
At No. 32, Anderson was the lowest-ranked US Open men's finalist since the ATP computer rankings began in 1973.
He was the first South African in a US championship final since Cliff Drysdale in 1965 and was bidding to become his country's first Slam champion since Johan Kriek at the 1981 Australian Open.
The 31-year-old never had been past the quarterfinals at any major tournament in 33 previous appearances, so when he won his semifinal on Friday, he climbed into the stands to celebrate.
There would be no such joy for him on this day.
Nadal added to his US Open triumphs in 2010 and 2013 and improved to 16-7 in Grand Slam finals. For the first time since 2013, he appeared in three in a single season, losing to Federer at the Australian Open in January, then beating Stan Wawrinka for his record 10th French Open trophy in June.
Nadal's career haul also includes two trophies from Wimbledon and one from the Australian Open. All of his big victories have come while being coached by his uncle, Toni, who is now stepping aside. The US Open was the last Grand Slam event of their partnership.
It was not as daunting as usual.
Not since Pete Sampras at Wimbledon in 2000 had a man won a Slam tournament without facing any opponents ranked in the top 20. In New York, the bracket was weakened by the injury withdrawals of three of the top five men: past champions Andy Murray, Novak Djokovic and Wawrinka.
Plus, Nadal did not need to deal with Federer: The potential for a semifinal, which would have been their first US Open meeting, was dashed when Juan Martin del Potro eliminated Federer in the quarterfinals. Nadal then beat del Potro , the 2009 champion but now ranked 28th, in the semis.
Much like Nadal's 6-2, 6-3, 6-1 win against Wawrinka at Roland Garros, the only beauty of this match was not in its competitiveness — not by a long shot — but in an appreciation for one participant's absolute superiority.