'Unwell' Nick Kyrgios sorry for walk-off
2017-10-11 02:03:15 GMT
2017-10-11 10:03:15(Beijing Time)
Agencies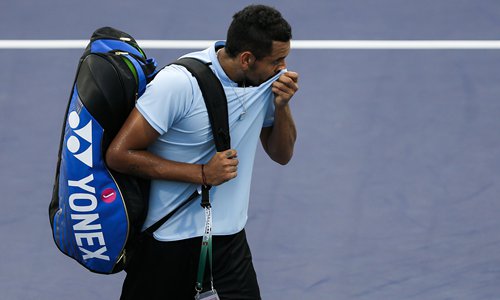 Nick Kyrgios of Australia prepares to leave the court after retiring from the men's singles match against Steve Johnson of the US on Day 3 of the Shanghai Masters on Tuesday. Photo: VCG
Australian firebrand Nick Kyrgios apologized and said he had been unwell after he stormed off court to loud boos midway through his opening match at the Shanghai Masters on Tuesday.
The 22-year-old issued a statement following his abrupt exit after losing the first set 7/5 on a tiebreaker to American Steve Johnson, having been docked a point for the second match running because of his conduct.
The ATP Tour said it had launched an investigation and Kyrgios, similarly hit with a point penalty in losing the China Open final to Rafael Nadal on Sunday in Beijing, said he was "gutted" to retire against Johnson.
Hours later Kyrgios made a statement on Twitter apologizing.
"I've been battling a stomach bug for the past 24 hours and I tried to be ready but I was really struggling on the court today, which I think was pretty evident from the first point," he wrote.
"My shoulder started to hurt in the practice today, which didn't help either, and once I lost the first set I was just not strong enough to continue because I've not eaten much the past 24 hours."
Kyrgios hit a low point in Shanghai a year ago when he similarly left the court to jeers, having rowed with the crowd and appeared to give up in his match against Germany's Mischa Zverev. Kyrgios was consequently suspended.
The temperamental Kyrgios did look in discomfort with his shoulder early on in the match against the unseeded Johnson. But he seemed untroubled by the injury when they entered the first-set tiebreaker, but like in the final in Beijing, his temper soon got the better of him, after he was angered by the unsettled crowd and the umpire.
He began Tuesday's match on his best behavior but showed a first flash of irritation toward the end of the set, blasting a ball out of the court after he disagreed with a call.
Kyrgios and Johnson were both comfortable on their serves and they went into the tiebreaker with signs that Kyrgios was beginning to lose his cool.
He went 3-0 up in the tiebreaker but as Johnson pegged him back, he was irked by spectators in the close-knit ­arena getting up between points.
"What's happening here?" he asked, before muttering, "Exactly why I shouldn't come here."
Kyrgios appeared to blame the umpire for failing to get the spectators in line and his afternoon spiraled fast when he received a point penalty.
"What is he doing? Is this normal?" Kyrgios asked somebody in the official area of the arena, where spectators and players are in close proximity.
"Poor officiating again," Kyrgios then complained, and added, "Sick of this place."
Johnson wrapped up the set and Kyrgios decided he had had enough, shaking the hands of his opponent and the umpire - though not looking him in the eye - and packing his bag and leaving.