Kyrgios fined US$10,000 for Shanghai walkoff
2017-10-12 01:33:23 GMT
2017-10-12 09:33:23(Beijing Time)
Agencies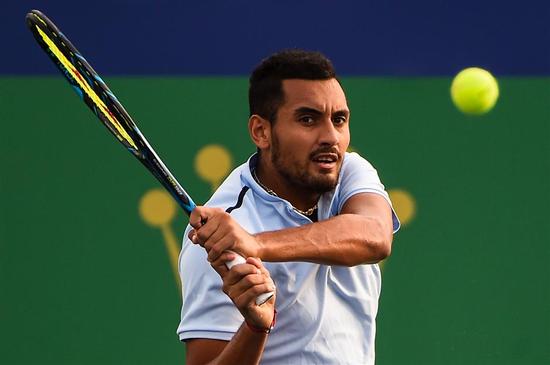 Nick Kyrgios of Australia hits a return to American Steve Johnson during their Shanghai Rolex Masters first-round match at the Qizhong Tennis Center in suburban Minhang District on October 10, 2017.
Australia's Nick Kyrgios has been fined US$10,000 and deducted his US$21,000 first-round losers' check following his decision to walk off after losing the first set against Steve Johnson at the Shanghai Rolex Masters on Tuesday.
The tempestuous Kyrgios had just been beaten in a tiebreak against Johnson when he walked to the net, offered his hand to the American and stormed off court to the bemusement of his opponent and chair umpire Fergus Murphy.
Kyrgios, 22, was booed off court by the crowd at the Qizhong Tennis Center in suburban Minhang District.
The ATP said on Wednesday that Kyrgios had been punished for "unsportsmanlike conduct", saying he had failed to complete a medical visit to explain his actions.
Kyrgios, ranked 21 in the world, said later on Twitter that he had been suffering with a stomach bug and a shoulder problem.
"I've been battling a stomach bug for the past 24 hours and I tried to be ready but I was really struggling on the court today which I think was pretty evident from the first point," Kyrgios, whose Shanghai Masters is over after he also pulled out of his scheduled doubles match with Frenchman Lucas Pouille on Wednesday, said.
"My shoulder started to hurt in the practice which didn't help either and once I lost the first set I was just not strong enough to continue. I've not eaten much in the past 24 hours."
Last year, Kyrgios was fined US$16,500 and banned for eight weeks for deliberately throwing a game during his second-round defeat by Mischa Zverev in Shanghai.
The ban for "conduct contrary to the integrity of the game" was reduced to three weeks after he agreed to a "care plan" under the direction of a sports psychologist.
He was also docked a penalty point against world No. 1 Rafael Nadal in the China Open final last week following a disagreement with the chair umpire.