A few hours after Roger Federer's exit from the championships, the player most observers expected to be waiting for the defending champion across the net in Sunday's final, Rafael Nadal, continued in that direction with a five-set win of the highest quality over Juan Martín del Potro under a mellowing night sky on Centre Court.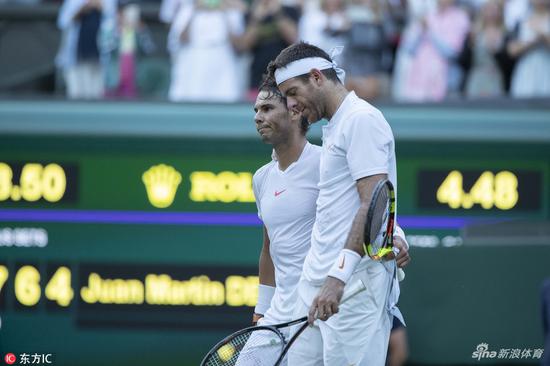 Having cruised to the quarters for the loss of only 36 games, Nadal knew this was going to be his toughest and longest test. And so it proved in a match that got better the longer it went as he ground out a 7-5, 6-7 (7), 4-6, 6-4, 6-4 win in four hours and 47 minutes, the longest of the tournament. The light was fading at the end of day nine, but not in Spanish eyes.
Nadal, 32, bounced about like the long-haired teenager in the sleeveless top who first played here 15 years ago, as hungry for a third Wimbledon title as he was for his 11th at Roland Garros a month ago. He must get past three-time champion Novak Djokovic in the semi-finals on Friday for another shot at the title. And how they will both relish their 52nd meeting.
For all that Nadal plays tennis as if he had just disturbed a burglar making off with his 17 grand slam trophies, he prefers victory by stealth, sapping opponents of the will to chase. But the 6ft 6in Tower from Tandil proved the most stubborn of intruders, putting 33 aces on him in total.
In a beginning that did not really hint of the drama to come, Nadal cracked his resistance after a string of long, close rallies and he was up and running with the first set under his belt.
They were soon back in the trenches, as one grinding rally followed another, each of them for a hint of weakness across the net. Del Potro broke and served for the set at 5-4, but double-faulted and Nadal clinched the break-back with a rasping forehand down the line.
Del Potro was straining to stay in touch in nearly every point, and his gambling instincts drove him to explore the white lines. Ten minutes after serving for the set, he held in the 12th game to keep it alive. Nadal took him to deuce but couldn't nail the break and they went to the shootout, where, against all likelihood, Nadal double-faulted on set point.
Del Potro, who'd saved four set points, grabbed one of his own on Nadal's serve and levelled at a set apiece with a forehand that clipped the net and fell inside the service box. The dogfight Nadal feared and Del Potro knew was his only route to the semi-finals had begun in earnest.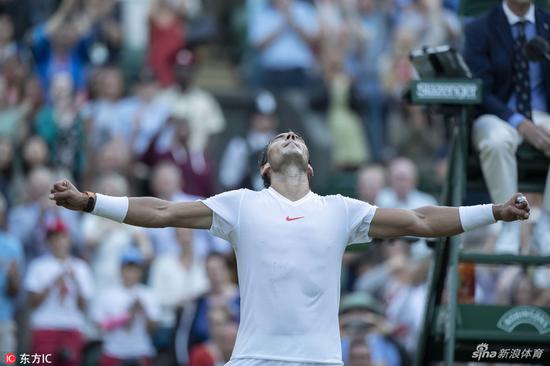 After two-and-a-half hours, Nadal had soaked up 19 Del Potro aces and they were still a set-all and three-all, the Argentinian ahead in the serving cycle again and doing his best to grind Nadal into the grass.
In chess, the Ruy Lopez, or Spanish opening, is designed to break down an opponent's pawn defence bit by bit, and the man from Mallorca was determined to do just that to the Argentinian, peppering him with difficult questions on either flank. Del Potro, however, opening his shoulders with his feared forehand and blasting a winner that left Nadal gasping on the baseline – and a set down just short of three hours.
There was a look of glee in Del Potro's sometimes sad eyes, and his lumbering between-points walk had a bit more energy to it. Nadal, struggling to get a solid second serve into difficult areas, was de-fanged for long stretches. The result was far from certain.
Nadal caught Del Potro napping in the fifth game, the big man slipping on the worn baseline dust as he was broken to love. Del Potro, who sprayed his once pained wrist with a powder on most changeovers, had new shoes brought to him after the seventh game of the fourth set. He needed something to shift the momentum back his way. The shoes didn't do it.
He fell again as Nadal held for 5-3, and, even with new balls, he struggled. A blistering, almost joyous whipped forehand sealed the set for Nadal and they went to a fifth.
Nadal's feet were twinkling. Yet, to everyone's surprise, Del Potro also started to motor, as he hurtled across the turf, crashing on to it occasionally like a young Boris Becker. When a stunned woman in the front row broke Nadal's fall at the end of a frantic lateral chase, he kissed her hand and smiled – and you will see neither of those occur at the same time again.
Nadal slipped mid-court twice in the fifth game, but stayed upright to break with a cracking angled backhand. Del Potro let two break-back points slip in the sixth game and, although his cause looked doomed, he forced Nadal to save three times for 5-3.
As he served out to reach his sixth semi-final, his old sparring partner, Andy Murray, newly installed in the BBC commentary box, declared the quality of tennis in the fifth set "the best I've seen in the tournament so far". There could be no argument with that.
John Isner has reached his first Grand Slam semi-final on his 41st appearance. The hard-serving American beat Milos Raonic of Canada 6-7 (5), 7-6 (7), 6-4, 6-3 to set up a meeting with Federer's conqueror Kevin Anderson in the last four.
Isner's 41 attempts to make a semifinal at a major is the second most in the 50-year professional era, behind Sam Querrey, who made the last four at Wimbledon last year with his 42nd try.
Isner has yet to be broken at this year's tournament and saved the only break point he faced. Raonic hit 31 aces to Isner's 25 but was broken three times, including in the last game of the match.
Source: Agencies