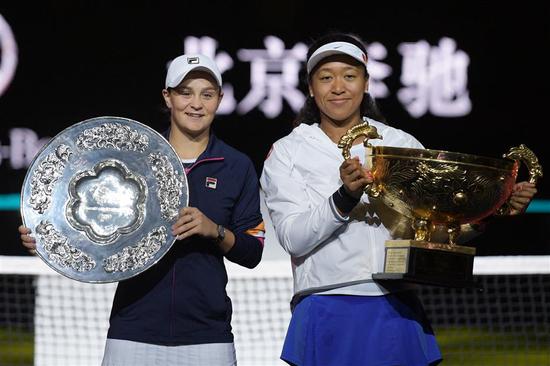 Naomi Osaka (right) of Japan poses with the winner's trophy after her 3-6, 6-3, 6-2 victory over Ashleigh Barty of Australia in the women's final of the China Open in Beijing on Sunday.
Naomi Osaka's win over world No. 1 Ashleigh Barty in Beijing at the weekend lifted the Japanese player back into the top three in the new WTA rankings released on Monday.
It meant back-to-back WTA Tour titles for the 21-year-old, who won the Australian Open in January, but then failed to match those high standards at the next three Grand Slams.
French Open winner Barty retains top spot and even extends her lead following the failure of Czech Karolina Pliskova to get past the first round in China.
Osaka's rise to three means Ukraine's Elina Svitolina, quarterfinalist in Beijing, slips to four.
US Open champion Bianca Andreescu of Canada, who lost a thrilling quarterfinal to Osaka last week, also climbs a place to No. 5 pushing Simona Halep of Romania down to six.
Osaka opened up on the immense pressure she placed on herself earlier this year that contributed to a slump in form and the loss of her top ranking.
The Japanese continued her late-season resurgence on Sunday with a 3-6, 6-3, 6-2 victory over Barty in the China Open final.
"I think this dip that I had really humbled me, it made me very motivated to be here right now," she said after coming back from a set down to defeat Australia's Barty.
Osaka, toppled as No. 1 by Barty in June, said that after winning in Melbourne "I honestly was counting the ranking points.
"I was too stats-oriented after I won the Australian Open because there was this big thing about you're No. 1 now.
"Then I felt like I shouldn't lose a match after that."
Osaka, who burst to the fore by beating Serena Williams to win the 2018 US Open, said that she is trying to "care" a little less to take the pressure off.
It is a mindset that helped her triumph in her home Pan Pacific Open last month, but was not in evidence in the early stages against Barty.
Osaka said that she was so desperate to win the Beijing final that she was in tears as she lost the first set, although she managed to hide it well and recovered her poise.
"Honestly, I don't think I'll ever feel the same way that I felt again right after Australia," she said of the sky-high expectations she placed on herself.
"There's no way, no way that's possible."
Meanwhile, world No. 7 Petra Kvitova has become the sixth player to qualify for the season-ending WTA Finals in Shenzhen, the WTA said on Monday.
The 29-year-old Czech, who won the title on her debut in 2011, will join Barty, Pliskova, Halep, Andreescu and Osaka at the October 27-November 3 tournament, which offers US$14 million in prize money.
"I'm so happy to qualify," Kvitova, who won titles in Sydney and Stuttgart and finished runner-up at the Australian Open this year, said in a statement.
"After a great start to the year in Australia I'm really proud to have secured my spot for the seventh time. This will be the third city I have visited for the WTA Finals so I'm excited to see what's in store in Shenzhen."
The top eight singles players face off in a round-robin format at the WTA Finals, with the winner taking home the Billie Jean King Trophy.
(Agencies)