Lin takes 1-shot lead at Women's China Open
2019-12-06 03:48:00 GMT
2019-12-06 11:48:00(Beijing Time)
Sina English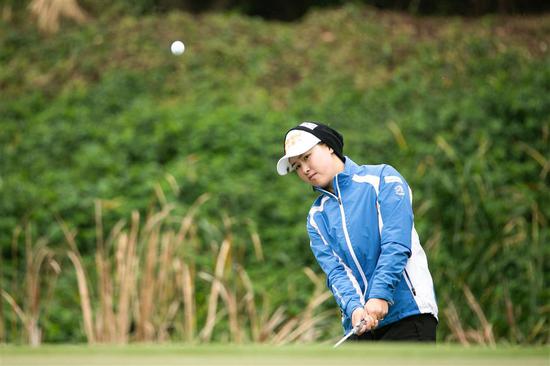 Defending champion Lee Min of Chinese Taipei chips during first-round action at the Macalline Women's China Open on Thursday.
Lin Xiyu set the early pace at the Macalline Women's China Open on Thursday as the Guangdong native opened with a 4-under-par 68 in wet conditions for a one-stroke lead in Xiamen, Fujian Province.
Defending champion Lee Min of Chinese Taipei was alone in second after carding a first-round 69 at Orient Xiamen, a shot ahead of fellow islander Chien Pei-yun (70). Thailand's Kanphanitnan Muangkhumsakul (71) was fourth at the 2.1-million yuan (US$298,000) national championship, the final tournament of the China LPGA Tour season.
Zhang Weiwei, the CLPGA Tour Order of Merit leader, was equal fifth on even-par 72 in a group of 11 players that included Du Mohan and 17-year-old Shanghai amateur Yin Ruoning.
Feng Shanshan, the world No. 22 and top-ranked player in the field, was a shot further back after a 1-over 73.
Lin, the US LPGA Tour regular who represented China at the 2016 Rio Olympics, took advantage of the relatively calm conditions of her early morning round to post five birdies and a bogey after starting on the Orient Xiamen back nine.
"The best part was iron play. I had changed my shafts and it worked out today. I hit very consistent, even with a strong and chilly wind. The birdie putts were not far," said the 23-year-old who finished third at last year's Women's China Open.
This year, Lin is coming off a strong season in the United States where she made the cut in 19 of the 23 events she played — a personal best.
"I think I can play well here after a consistent season on the LPGA Tour. But you know, the challenge should be those sloping greens where I lost last year. A 68 is not very great score out there. I must step on the gas for the next three days."
Lee, who won by one stroke last year, was 4-under par through seven holes in her afternoon round. As the rain got heavier on the back nine she battled the elements to post two more birdies but also three bogeys to stay close.
"Actually my shots are not the best today but I saved a lot of strokes on the putting green. That really helps me for the score," said the 24-year-old, who played regularly on the US LPGA Tour from 2015 to 2017 and has won back her full playing card for next year through the Tour's Q-Series.
"When I turned around on the back nine I had some rough second shots, some tough up-and-downs. I'm not complaining about my score because the weather is not really nice to play golf, but I'm happy."
Feng, the China No. 1, also started her early-morning round from the back nine. After making a birdie at the first hole (her 10th) to get to 2-under, the Guangdong star struggled down the stretch in closing with three bogeys over her last six holes.
"I made plenty of mistakes. My approach shots and par saves were not so good as I expected. When I missed the green I always lost a shot with a poor short game. I need to work on this part during the offseason," said Feng.
"Long-hitters are at an advantage out there because you must hit it very close with your approach shots. But the greens softened because of the rain. Everyone has a chance now."
(Agencies)