Whereas last year's Consumer Electronics Show was all about Android, the surprise mindshare leader at CES 2012 is Microsoft's Windows Phone mobile operating system.
After completely reinventing the artist formerly known as Windows Mobile in late 2010, the company fleshed out and polished up the OS with the current Windows Phone 7.5 iteration. Thanks to a $1 billion partnership with Finnish giant Nokia early last year, as well as strong continued partnerships with handset makers HTC and Samsung, the Windows Phone ecosystem is set to finally come into its own in 2012.
Despite not dominating the show floor to the extent it did last year, Google's Android mobile operating system nevertheless managed a strong showing at CES 2012. Motorola announced a brace of powerful smartphones with the Droid Razr Maxx and the Droid 4, LG brought out the 4G LTE Spectrum handset for Verizon, and Samsung introduced a unique entrant to that middle ground between phone and tablet with the 5.3" Galaxy Note on AT&T. Samsung also saw its flagship Android 4.0 Ice Cream Sandwich phone, the Galaxy Nexus, leave Verizon exclusivity for Sprint.
Here's our list of of the top 7 phones at CES 2012:
1. Nokia Lumia 900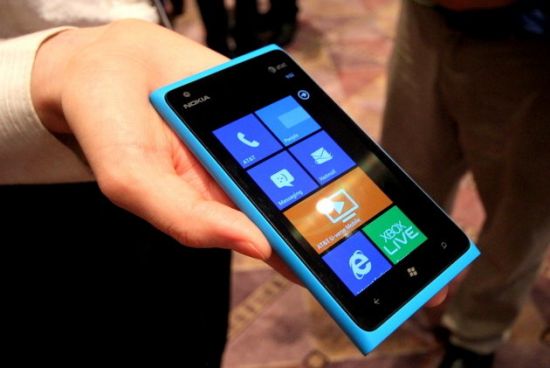 Lumia 900
The Microsoft-Nokia partnership is finally bearing fruit in the U.S., with the much-heralded Lumia family the long-awaited result. Of the 710, 800, and 900 trio, the latter is the most powerful flagship Windows Phone device of the bunch.
The Nokia Lumia 900 features a sleek and curvy design — refreshing amidst a sea of sometimes barely differentiated Android slabs. Set to be the world's first 4G LTE Windows Phone on AT&T when it launches in the coming months, the handset literally turned heads on the CES show floor with its sharp looks and 4.3" AMOLED display. Another notable feature is its 8-megapixel camera, which includes an f2.2/28mm Carl Zeiss lens that can snap wide-angle shots and performs admirably in low light settings.
2. HTC Titan II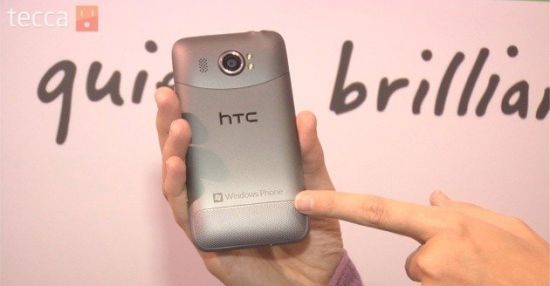 HTC Titan II
This successor to the original HTC Titan can lay two world's first claims to its crown: it'll be the first Windows Phone handset to run on a 4G LTE network in the States (courtesy of AT&T), and features a whopping 16-megapixel camera — the highest resolution ever seen on a handset released in the U.S. market.
Beyond being the equivalent of Mecca for cameraphone enthusiasts, the HTC Titan II comes with a stable of other hardware specs to match, including a big and beautiful 4.7" Super LCD display, 1.5GHz Snapdragon processor, front-facing camera, and 16GB onboard storage.
3. Motorola Droid Razr Maxx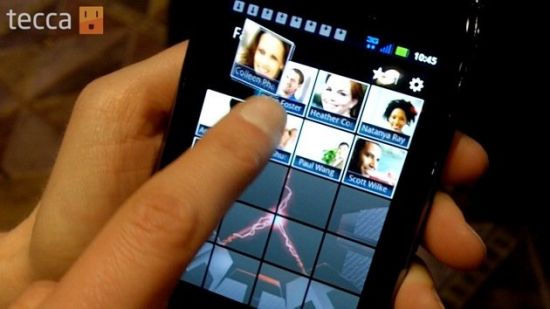 Droid Razr Maxx
Launched just late last year, the Motorola Droid Razr is already getting an update in the Droid Razr Maxx. The claim to fame of this new ultra-thin Android device is its extreme battery life: with a reported 21 hours of operation from a single charge, the Razr Maxx essentially doubles that of the original.
Launching as a Verizon exclusive, the 4G LTE handset runs the elder Gingerbread version of the Android OS, but a Motorola representative told us to expect an Android 4.0 Ice Cream Sandwich update in the second quarter of 2012. Also featuring an 8-megapixel camera that shoots 1080p high-definition video, a front-facing camera for video chat, and water-repellent nanoparticles that keep it safer from moisture, the Razr Maxx will be launching on January 26 for $299.99 on contract.
4. Samsung Galaxy Note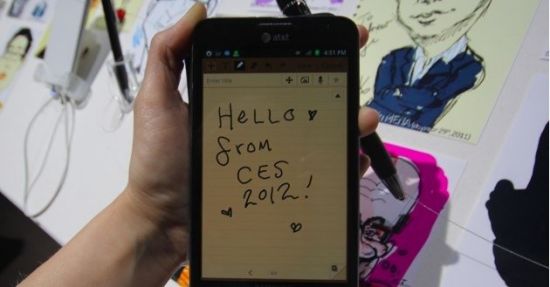 Galaxy Note
Samsung Galaxy Note took the baton from powerful, oversized superphones and ran with it. If you think the Galaxy Nexus's 4.65" screen was big, the Note might make you do a doubletake.
At first glance, the Note doesn't look like a phone at all, and you wouldn't be off base if you mistook it for a teensy little tablet. But it isn't just a gimmick: with Android ICS en route, a dazzling Super AMOLED display, support for AT&T's LTE network, and a built-in stylus that's as practical as it is fun, the Note is both flashy and feature-rich. It may pack an unpocketable 5.3" screen, but at 0.38" thick and 0.63 oz., the Note felt quite light and manageable during our time testing it out.
One thing's for sure: the Galaxy Note mini-tablet (or is it a mega-phone?) is a bold device. And while only time will tell if consumers will be intrigued or just plain puzzled, we think Samsung's smartphone experiment might just be crazy enough to work.
5. LG Spectrum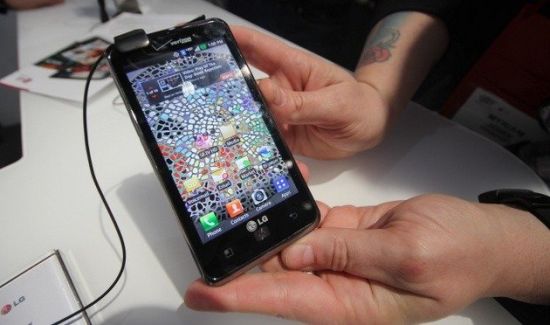 Spectrum
If you're sensing a 4G LTE trend by now, you'd be absolutely correct; even Sprint is now ditching its WiMax network in favor of LTE as its primary 4G technology. LG tossed its own contender into that ring with the LG Spectrum. Featuring a 4.5" HD display, 1.5GHz dual-core processor, 16GB storage, an 8-megapixel camera with LED flash, and support for Dolby Digital Plus, the Spectrum also supports wireless media streaming via DLNA and exclusive access to the ESPN ScoreCenter app.
The LG Spectrum will be launching as a Verizon exclusive on January 19 for $199.99 with a 2-year contract.
6. Motorola Droid 4
Droid 4
Billed as the world's thinnest 4G LTE smartphone with a full physical keyboard, the Motorola Droid 4 is an Android slider running the elder Gingerbread version of the OS, but a Motorola representative told us to expect an Android 4.0 Ice Cream Sandwich update in the second quarter of 2012.
If you're one of those smartphone users who never quite fell in love with virtual keyboards, the Droid 4 could be just the ticket for you. When we tested out the QWERTY offering we found the keyboard pleasantly tactile and responsive, though you'll be trading off some physical thickness to get it.
The Droid 4 will head to Verizon in the coming weeks for an as yet undisclosed price.
7. Samsung Galaxy Nexus on Sprint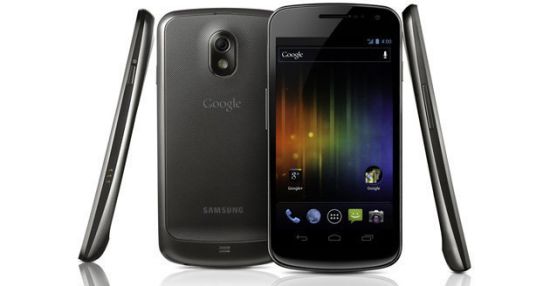 Galaxy Nexus
Everything we love about the Samsung Galaxy Nexus — its beautiful 4.65" Super AMOLED display, powerful dual-core processor, and status as the world's first phone to run the latest Android 4.0 Ice Cream Sandwich mobile operating system — will be following the device to a second carrier when it leaves Verizon exclusivity for Sprint later this year.
Faced with a surprising dearth of new ICS handset announcements at this year's CES, we're at least happy to see consumers finally get more carrier options for the newest flavor of Android. While sharing most of the specs of its Verizon counterpart including a healthy 32GB of storage, there is one notable feature Sprint's version of the Nexus will include that the original does not: support for Google Wallet, the search giant's mobile payment system based on Near Field Communication technology.
There's no word yet on exactly when Sprint will launch the Galaxy Nexus, but it's reasonable to expect availability around the same time the carrier launches its new LTE network sometime mid-2012.