Is N.Korea's capitalist taboo broken?
2013-08-06 01:38:01 GMT
2013-08-06 09:38:01(Beijing Time)
SINA.com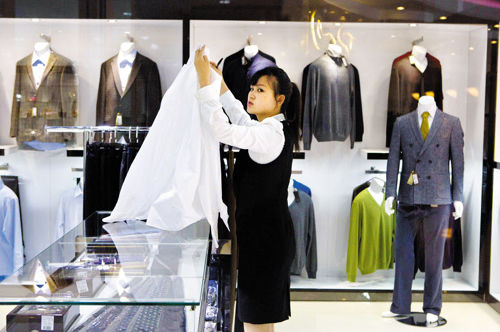 This May 19, 2013 photo shows a boutique selling Italian suits at the newly-opened Haedanghwa mall in Pyongyang, North Korea. /AP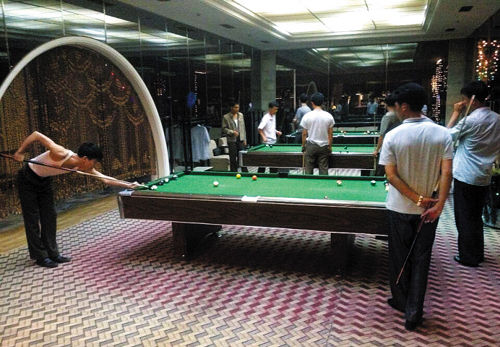 In this picture tweeted by CNN's Ivan Watson on, North Korean men play snooker in Pyongyang.(Photo:Agencies)
A swish new shopping mall in Pyongyang is breaking any number of taboos to allow the country's elite a taste of conspicuous Western-style consumption. North Korean leader Kim Jong-un and his wife Ri Sol-ju visited the mall prior to the official opening at the end of April.
The Haedanghwa mall not only sells South Korean cosmetics brands such as Laneige and Kerasys but also expensive global ones like Chanel, Lancome, L'Oreal's, and SK-II. It also sells expensive jewelry by Cartier and Swarovski, luxury watches by Rolex and Omega, and clothes by Italian designers. An imported suit costs around US$500 to 700.
The mall also boasts restaurants, karaoke rooms, a massage parlor, sauna, cafe, cyber cafe, billiard hall, hair salon and gym.
Until the early 2000s, all these were banned in North Korea. But now North Koreans say such facilities for the rich are being built not only in Pyongyang but in other parts of the country.
Fitness clubs have sprung up since a couple of years ago due to a diet fad among the elite, while fast-food chain KFC opened an outlet in Pyongyang as if to undo any immediate advantages from the health craze. Coca Cola is being sold in shops accepting foreign currency.
Even gold is being bought and sold in the black market, one North Korean said, a sure sign of an emerging class of newly rich, even though it is officially illegal and people were until recently executed by firing squad if caught.
(Agencies)