Kim Jong-un's uncle reportedly executed
2013-12-10 02:10:18 GMT
2013-12-10 10:10:18(Beijing Time)
SINA.com
North Korea has confirmed that the powerful uncle of young leader Kim Jong-Un has been purged, with some reports suggesting Jang Song-Thaek has been executed.
The official news agency KCNA accused the man once seen as the power behind the throne of being a corrupt, drug-taking womaniser bent on building his own faction in the ruling party.
South Korean analysts predicted a sweeping purge would follow, leaving Kim as the undisputed centre of power.
Free North Korea Radio -- a Seoul-based radio station -- claimed Jang has already been executed.
Citing high-level sources in the North, it claims Jang and six other party and military cadres who were close to him had been executed on Thursday in the capital Pyongyang.
KCNA said Jang, once seen as his nephew's mentor, had been stripped of all his posts and of party membership for committing criminal acts and leading a 'counter-revolutionary faction'.
State TV on Monday showed photos of Jang being dragged out of his seat at a meeting by two officers -- an extremely rare publication of humiliating images involving a senior official.
It was not certain if the incident happened at Sunday's meeting. But the TV aired other photos from Sunday showing Kim sitting at the podium with other top officials.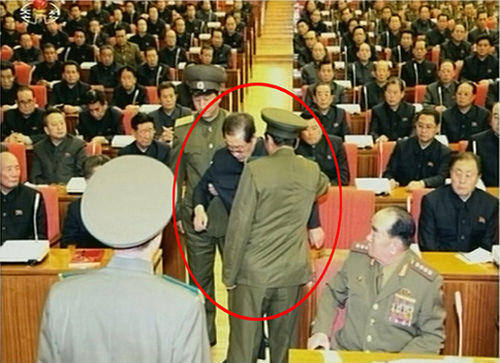 State TV on Monday showed photos of Jang being dragged out of his seat at a meeting by two officers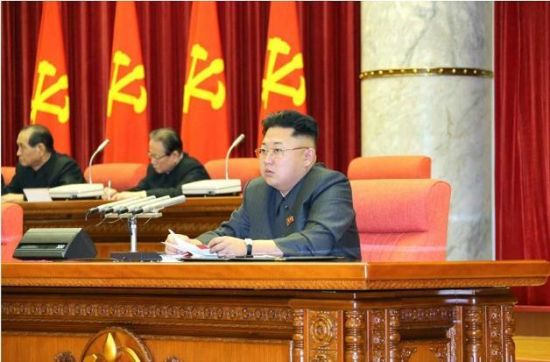 Kim sitting at the podium with other top officials.
Analysts said Jang's main role had been to ensure a smooth transition after the inexperienced Kim Jong-Un came to power following the death of his father Kim Jong-Il in December 2011.
But they said Jang had become increasingly resented by the leader, who is aged about 30.
'Jong-Un has built a solid power base for the past two years, and he no longer needed a regent who appeared to be increasingly powerful and threatening,' said Paik Hak-Soon, a researcher at the South's Sejong Institute think tank.
Seoul's spy agency and the unification ministry that handles cross-border affairs said they had no knowledge of the reported execution.
KCNA said the meeting on Sunday confirmed it had 'eliminated Jang and purged his group, unable to remain an onlooker to its acts any longer'.
The regime said it removed Jang and his associates for trying to build a faction within the party, and for appointing his followers to top positions to serve his own political ends.
The KCNA report said Jang 'had improper relations with several women and was wined and dined at back parlours of deluxe restaurants', becoming 'affected by the capitalist way of living'.
Jang was also accused of hindering North Korea's state-run production of iron, fertilisers and vinalon -- a home-made synthetic fibre -- by selling off resources at cheap prices and 'throwing the state financial management system into confusion'.
His wife Kim Kyong-Hui, who is Kim Jong-Il's sister, has also long been at the centre of power. She was promoted to four-star general at the same time as Kim Jong-Un in 2010.
The pair were once viewed as the ultimate power couple in Pyongyang. But in the past year Kim Kyong-Hui has been less visible, with reports that she was seriously ill and had sought hospital treatment in Singapore.
'This time, Jang is gone for good. He'll never be allowed into politics again,' said Paik from the Sejong Institute.
Seoul was 'closely monitoring' the situation in the North, said unification ministry spokesman Kim Eui-Do.
(Agencies)