Republican candidates clash in 3rd presidential debate
2015-10-29 01:34:21 GMT
2015-10-29 09:34:21(Beijing Time)
Agencies
The Republican presidential contenders clashed over tax plans in a debate on Wednesday, with front-runner Ben Carson defending his Bible-inspired proposals and former business executive Carly Fiorina vowing to reduce the complicated tax code to three pages.
With time running short until the first nominating contest in three months, the Republicans were quick to leap to the attack and frequently talked over each other and the moderators in their haste to make points.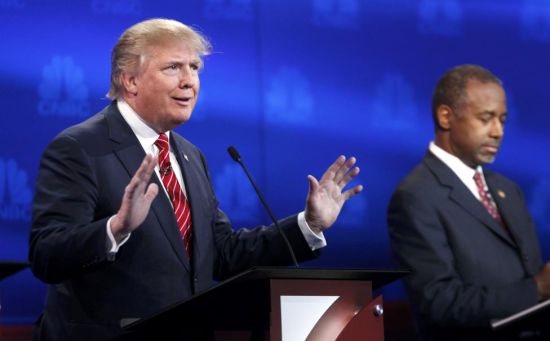 Trump and Carson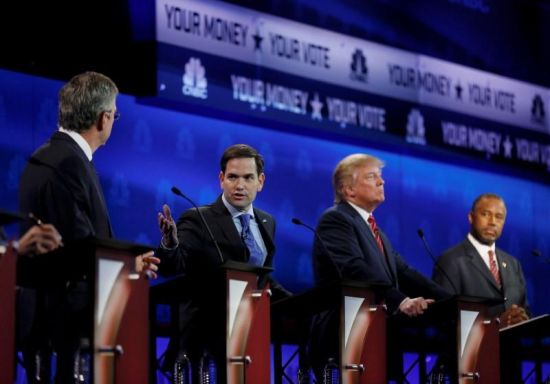 Republican candidates clash is 3rd presidential debate
Jeb Bush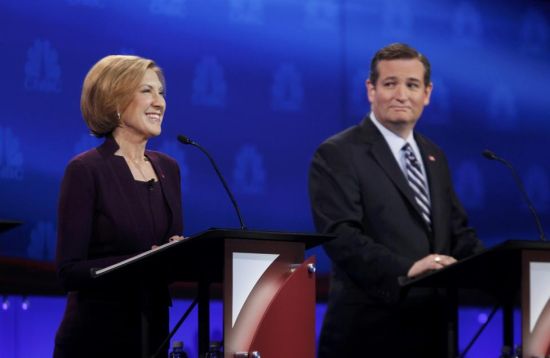 Carly Fiorina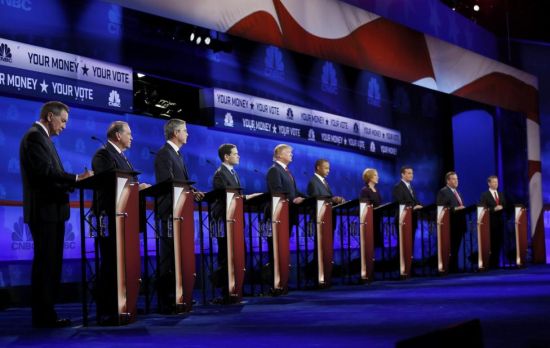 Republican candidates clash is 3rd presidential debate
Carson, a retired neurosurgeon, said his plan, which is based on religious tithing principles, would get rid of deductions and loopholes and constitute a flat rate of about 15 percent that would be sufficient to fund a sharply reduced government.
"Remember, we have 645 federal agencies and sub-agencies. Anybody who tells me that we need every penny in every one of those is in a fantasy world," Carson said.
Fiorina, a former executive at Hewlett-Packard, said she would reduce the tax code to three pages to level the playing field for all Americans.
"Three pages is about the maximum a single business owner, or a farmer, or just a couple can understand without hiring somebody," she said.
Ohio Governor John Kasich was quick to go on the attack against billionaire developer Donald Trump, calling his tax plan "a fantasy."
"We are on the verge of picking, perhaps, someone who cannot do this job," Kasich said. "You gotta pick somebody who has experience."
Former Florida Governor Jeb Bush, without mentioning Trump by name, said "it troubles me that people are rewarded for tearing down this country."
Trump and Carson, the two clear front-runners for the party's nomination for the 2016 election, were under pressure to prove their economic expertise at Wednesday's presidential debate, with eight struggling rivals eager to expose what they see as policy weaknesses.
The debate comes at a crucial time in the race for the 2016 Republican presidential nomination, as Carson has moved ahead of Trump in some national and local polls. The latest Reuters/Ipsos poll shows the two front-runners in a dead heat.
Lagging contenders such as Bush and U.S. Senator Marco Rubio of Florida are running out of time to turn the tide in a campaign dominated by provocative rhetoric that has played to the strengths of Trump, a bombastic reality television star and developer, and Carson, a soft-spoken neurosurgeon.
The other candidates sharing the stage were U.S. Senator Rand Paul of Kentucky, Fiorina, Kasich, U.S. Senator Ted Cruz of Texas, former Arkansas Governor Mike Huckabee and New Jersey Governor Chris Christie.
All of the trailing contenders need to shake up the race and will be trying to plant doubts about whether Carson and Trump, who have never held public office, are familiar with the issues.
Before the main event, four low-polling candidates held a separate debate. U.S. Senator Lindsey Graham of South Carolina turned in a strong performance against Louisiana Governor Bobby Jindal, former New York Governor George Pataki and former U.S. Senator Rick Santorum of Pennsylvania.
All of the low-polling candidates took shots at Democratic front-runner Hillary Clinton and her rival U.S. Senator Bernie Sanders, a democratic socialist from Vermont, but Graham had the sharpest aim.
"Good God, look who we're running against," Graham said. "The number-one candidate on the other side thought she was flat broke after her and her husband were in the White House for eight years. The number-two guy went to the Soviet Union on his honeymoon, and I don't think he ever came back."