Uganda turns national stadium into auxiliary hospital as COVID-19 cases surge
2020-09-08 02:57:01 GMT
2020-09-08 10:57:01(Beijing Time)
Xinhua English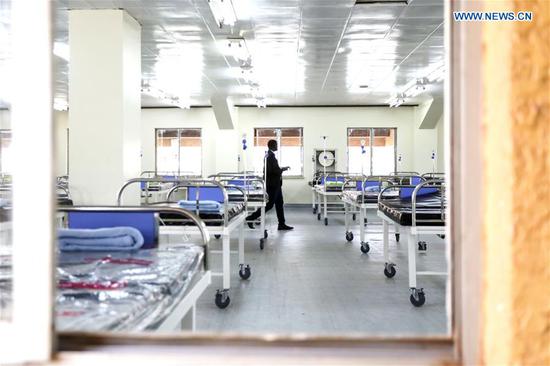 A man is seen inside a treatment center for COVID-19 patients at Namboole National Stadium in the central Ugandan district of Wakiso, about 15 km east of the capital Kampala, on Sept. 7, 2020. Uganda's ministry of health has converted parts of Namboole National Stadium into an auxiliary hospital to cater for the rapidly increasing number of COVID-19 cases in the east African country. (Photo by Hajarah Nalwadda/Xinhua)
WAKISO, Uganda, Sept. 7 (Xinhua) -- Uganda's ministry of health has converted parts of Namboole National Stadium into an auxiliary hospital to cater for the rapidly increasing number of COVID-19 cases in the east African country.
Diana Atwine, permanent secretary of ministry of health unveiled the treatment center located in the central Ugandan district of Wakiso, about 15 km east of the capital Kampala.
Atwine said the facility is starting with a 1,500-bed capacity as health officials continue to monitor the unfolding COVID-19 situation in the country.
She said asymptomatic and mild cases would be admitted at the facility while the severe ones will remain at the regional and national referral hospitals.
"We are starting with 1,500 beds here. So far we have 210 beds that are ready for use. Should we get overwhelming numbers we shall be able to bring more beds," she said.
The conversion of the stadium into a treatment facility comes after a spike of COVID-19 cases in the country, especially in the capital, Kampala, which is becoming the epicenter of the virus.
"It's better to be prepared than just getting shocked when you are overwhelmed by numbers. That is why we have worked on this," said Atwine.
"This will offer an immediate solution in case we get (higher) numbers. You prepare, if the numbers don't come, that is fantastic," she added.
The country as of Sept. 6 had reported 3,667 COVID-19 cases, including 1,608 recoveries and 41 deaths since the first case was registered on March 21, according to ministry of health figures. Enditem