At least 15 people including Ukraine's interior minister, other senior ministry officials and three children were killed on Wednesday morning when a helicopter crashed near a nursery outside Kyiv, officials said.
Several bodies were covered by blankets on the ground of a courtyard in a residential area near the damaged entrance of a block of flats after the helicopter came down in Brovary, northeast of the capital, setting at least one building ablaze.
The regional governor said 18 people had been killed but emergency services later announced a death toll of 15 and said 25 others had been injured, including 10 children.
The national police chief confirmed that Interior Minister Denys Monastyrskyi, who was appointed under President Volodymyr Zelenskiy in 2021, was killed. His first deputy, Yevheniy Yenin, and the ministry's state secretary also died, he said.
"As a result of the crash in Brovary, the leadership of the Ministry of Internal Affairs of Ukraine was killed. They were in the helicopter of the State Emergency Service," police chief Ihor Klymenko said.
Nine of the people confirmed dead had been on board the helicopter, the police chief and emergency services said.
Videos of the crash shared on social media showed a burning building and people could be heard screaming.
"There were children and ... staff in the nursery at the time of this tragedy," Kyiv region governor Oleksiy Kuleba wrote on the Telegram messaging app.
The crash comes in the eleventh month of Russia's invasion with Ukraine still reeling from the deaths of 45 people who were killed in an apartment block in a Russian missile attack on the east-central city of Dnipro on Saturday.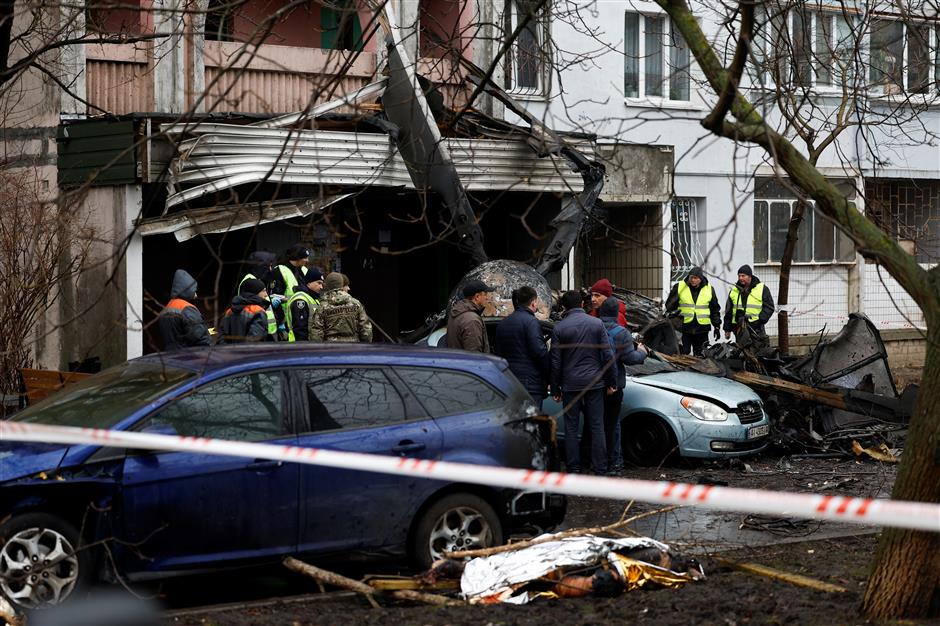 Reuters
A view of the site of a helicopter crash, amid Russia's attack on Ukraine, in the town of Brovary, outside Kyiv, Ukraine, January 18.
Investigating Causes
It was not immediately clear what caused the helicopter to crash. Ukrainian officials made no reference to any Russian attack in the area at the time.
The Prosecutor General's Office said it was investigating and considering all possible causes.
"Unfortunately this happened with a state emergency service helicopter which was fulfilling its task," Air force spokesperson Yuriy Ihnat said.
He said it could take at least several weeks to investigate the disaster. The helicopter was a French Super Puma, aircraft operated by all Ukraine's law enforcement agencies, he said.
"Unfortunately, the sky does not forgive mistakes, as pilots say, but it's really too early to talk about the causes," he said in a TV broadcast.
Interior minister Monastyrskyi, 42, was a trained lawyer and politician who won a seat in the 2019 parliamentary election representing Zelenskiy's Servant of the People party.
He became head of the parliamentary Committee on Law Enforcement Affairs and replaced Arsen Avakov as interior minister after Avakov quit in July 2021.
"This is truly heartbreaking. Interior Minister, Denys Monastyrsky was a leading light in supporting the Ukrainian people during Putin's illegal invasion," British Home Secretary Suella Braverman on Twitter.
"When we spoke in October I was struck by his determination, optimism and patriotism," she said.