Biden's departing top aide Klain forecasts president to run again in 2024
2023-02-02 08:20:54 GMT
2023-02-02 16:20:54(Beijing Time)
Sina English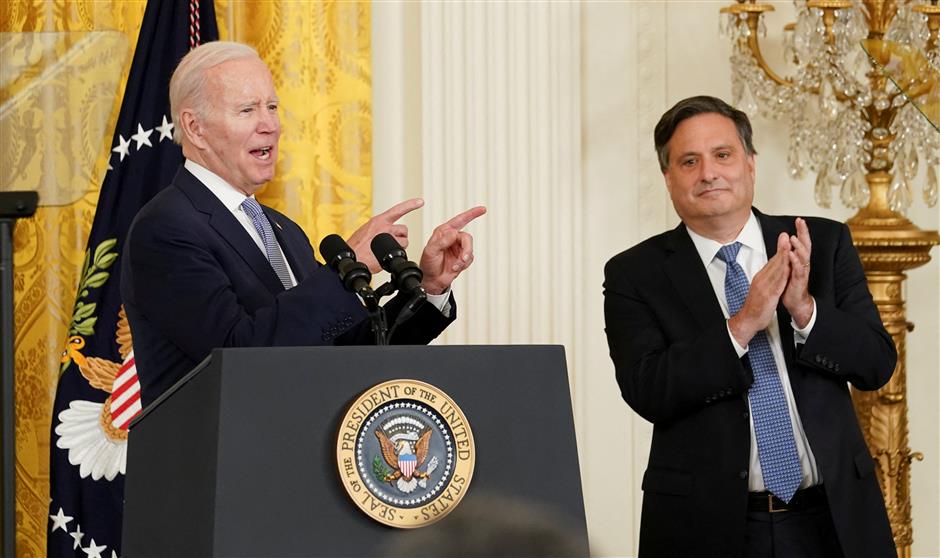 Reuters
US President Joe Biden speaks during an official transition event hosted to thank Ron Klain (right) for his work and to welcome his successor Jeff Zients, at the White House, in Washington, US, February 1.
Ron Klain, President Joe Biden's chief of staff, predicted on Wednesday that Biden would run for re-election in 2024, in remarks as Klain prepared to step down from his role as a top White House aide.
Biden, 80, has frequently expressed his intention to run for a second four-year term, and advisers expect him to make it official in the coming weeks.
With Biden standing at his side in the White House East Room, Klain choked back tears in an emotional departure speech to dozens of staff members, many of whom consider themselves "Klainiacs."
"As I did in 1988, 2008 and 2020, I look forward to being on your side when you run for president in 2024," Klain said.
Biden is to complete a physical examination by February 16, his press secretary, Karine Jean-Pierre, told reporters earlier.
The president appeared to be wiping away tears as he listened to Klain's speech.
"I knew this day would come, to state the obvious, but it doesn't make it any easier," Biden said.
Klain is to be succeeded as chief of staff by Jeff Zients, who had handled the Biden administration's COVID pandemic response.